Flying in First Class is an experience, and Swiss International Air Lines has taken it to a new level. With a reputation for luxury and elegance, Swiss International Air Lines is known for providing its passengers with a first-class travel experience that is second to none.
As a First Class passenger, you'll get the ultimate in comfort. So let your worries drift away as you take off into the skies and arrive feeling fully refreshed.
From the moment you step on board, you'll be treated like royalty, with an array of amenities and services designed to make your journey as comfortable and enjoyable as possible.
Embark on a journey of the finest amenities offered in air travel with Swiss International Air Lines First Class. Find out why this airline is everyone's top pick for luxury flights!
The Epitome of Luxury Air Travel: Why Should You Choose Swiss Airlines First Class?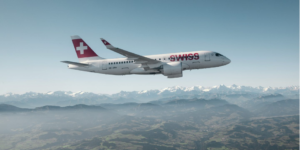 Swiss International Air Lines' First Class epitomizes luxury air travel. With a range of amenities designed to meet each passenger's needs, you'll be sure to have a first-class experience like no other.
From flatbeds that are fully equipped with a down comforter and pillow to in-flight entertainment systems, you'll have everything you need for a luxurious flight.
Here are just a few of the features you can expect when flying First Class with Swiss International Air Lines:
Comfortable Seats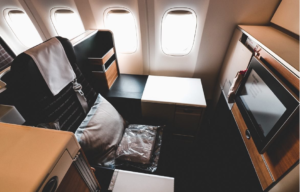 The SWISS First cabin of the Boeing 777-300ER and Airbus A340-300 provides a truly luxurious experience with its easily adjustable private suite area, complete with individual wardrobe space.
Furthermore, adjusting all three windows in your zone is incredibly simple, thanks to the electric-mechanical window blinds. And for entertainment purposes, you can enjoy the pleasure of the industry's largest 32″ video screen!
First-Class Dining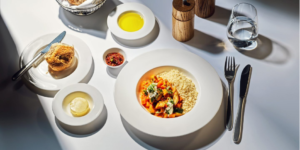 Indulge in a luxurious dining experience with SWISS First and enjoy the freedom of customizing your own meal.
Their extensive menu includes an array of starters, main courses, desserts, special wines, champagne, and freshly-brewed coffee – all tailored to your individual needs so you can make the most out of your flight!
SWISS First guests will be delighted by the selection of Valais meat specialties such as smoked venison, ham, and shoulder of lamb with gravy, along with a delectable bread pudding served with coconut ice cream. Vegetarians are also in for a treat – indulge in the irresistible cauliflower couscous!
Besides, Swiss Airlines propose the SWISS Connoisseur Experience – an onboard culinary journey of discovery. Relish savory dishes with Swiss specialties and exquisite wines while you are onboard!
Great Entertainment On Board
With over 90 movies and 170 TV shows, you can experience the latest blockbusters, acclaimed documentaries, and top-rated television series. Plus, enjoy over 100 music playlists with CDs and audiobooks to match! With such a broad selection of offerings at your fingertips, there is something for every viewer or listener in this library.
SWISS provides a substantial selection of kids' movies, cartoons, computer games, and the SWISS Kids music list to make sure our littlest travelers have fun during their trip. In addition, every month, they revamp their entertainment lineup so that there is always something new for them to enjoy!
Besides, a Wi-Fi service is available on board so you can stay connected with friends, family, and business contacts even when flying.
First Class Lounges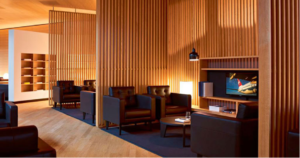 Swiss International Air Lines' First Class lounges are the perfect place to relax and unwind before your flight. These exclusive lounges are designed to provide passengers with a comfortable and luxurious environment to enjoy various amenities and services.
One of the key features of Swiss International Air Lines' First Class lounges is the personalized service. Upon arrival, passengers will be greeted by a dedicated lounge attendant who will assist them with anything they need, from making reservations for spa treatments to booking their next flight.
The lounges themselves are designed to provide high comfort and luxury. The lounges have everything you need to relax or work before your flight, from comfortable seating areas to private workspaces. Some lounges even feature private sleeping rooms where passengers can take a nap before their flight.
Swiss International Air Lines' First Class lounges also offer a range of dining options, with a selection of gourmet dishes and fine wines available. In addition, passengers can choose from various food options, including hot and cold dishes, fresh salads, and a range of desserts.
Priority Check-In and Boarding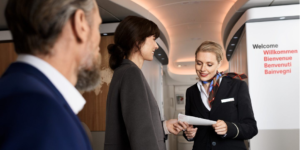 Swiss International Air Lines offers priority check-in to First Class passengers, allowing them to skip long lines and expedite check-in. This service is designed to provide passengers with a seamless and stress-free experience at the airport.
When you arrive at the airport, you can proceed directly to the First Class check-in counter, where a dedicated staff member will assist you with your check-in process. It ensures you do not have to wait in long lines or waste time at the airport.
In addition to the priority check-in service, Swiss International Air Lines also offers a dedicated baggage drop-off area for First Class passengers. It lets you drop off your luggage quickly and easily before proceeding to the security checkpoint.
Baggage Options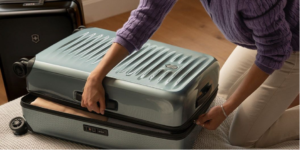 As a First Class passenger, you can bring two pieces of hand luggage (each weighing 8 kg) and three checked bags that can weigh up to 32 kg each. With such generous baggage allowances, your vacation will begin even faster as your priority items get processed quickly upon arrival at the destination!
Other Services for Your Well-Being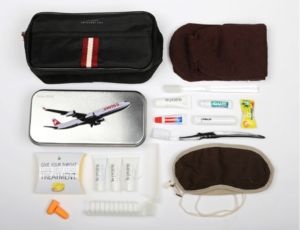 SWISS has collaborated with the renowned designer label Bally to create a stunning amenity kit for travelers. Inside, you will find La Prairie cosmetics, toothpaste and toothbrush, earplugs, tissues, as well as socks – ladies are given an extra brush and vanity set. At the same time, gentlemen receive a comb and shoehorn in their kits too!
With this exclusive combination of stylish luxury products from both SWISS and Bally, your flight experience is about to become even more comfortable.
Besides, you can enhance your personal well-being with delectable extras from the Swiss luxury brand Soeder, such as a cover and pillow, along with Zimmerli of Switzerland pajamas.
Bottom Line
Swiss International Air Lines offers a wide range of amenities and services to make your flight experience as comfortable and luxurious as possible. From priority check-in and boarding to exclusive lounges and baggage options, you can be sure that your needs will always be taken care of when flying with SWISS.
Additionally, their collaboration with Bally and Soeder gives passengers an enhanced experience that will make their journey even more memorable.
With their commitment to providing a premium service and experience, you can look forward to an unforgettable flight with SWISS International Air Lines!
https://simplybusinessclass.com/wp-content/uploads/2022/07/Logo-final-web-SBC.png
0
0
Viktoriya
https://simplybusinessclass.com/wp-content/uploads/2022/07/Logo-final-web-SBC.png
Viktoriya
2023-03-16 12:00:00
2023-02-28 19:55:03
A First Class Experience Like No Other: The Perks of Flying Swiss International Air Lines