Flying in business class is like entering an entirely different realm. The plush seats, finely curated menus, and exquisite amenities make one feel like royalty. And when it comes to Hainan Airlines Business Class, the experience only gets better.
Like a smoothly sailing ship that takes you away to a tranquil sea, Hainan Airlines' business class service will take you on a journey where luxury meets refinement. From the moment you step aboard until your final destination, Hainan Airlines pampers you with its renowned hospitality and extraordinary attention to detail.
So why not indulge in the ultimate sky-high experience with Hainan Airlines Business Class? Let us unlock the world of this high-flying service for you and guide you through its exquisite amenities and service.
Excellent Service and Exquisite Amenities: Why Should You Choose Hainan Airlines Business Class?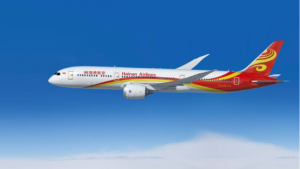 Take a seat in Hainan Airlines Business Class, and experience its comfort and convenience. From the moment you enter the airport till the time you're in your seat, Hainan Airlines will pamper you with its exquisite service.
Let's dive in to learn more about the amenities and services that make Hainan Airlines Business Class the best choice for many travelers.
Airport Experience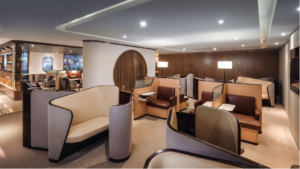 Hainan operates from various Chinese airports, such as Beijing, Xian, Chengdu, Chongqing, and Changsha. These airports can be vast, and their security and immigration processing may not be very friendly. Additionally, their lounge facilities may not be very satisfactory.
But Hainan Airlines will make sure that you don't have to worry about any of these issues. They have their own exclusive lounges and fast-track services that will make sure you get great service from the moment you arrive in the airport.
Business Class passengers can use dedicated check-in lanes where they will receive prompt service. Bypassing the long queues, they can quickly proceed to security and immigration, easing their way into the lounge where complimentary refreshments await.
Next, guests can head to the Business Class lounge with its contemporary design, comfortable seating, and a variety of beverages and snacks. It's like a private oasis in the middle of the bustling airport.
If you are traveling in Business Class, you get the perk of Priority Boarding. It's a great way to avoid the rush of getting onto the plane.
What concerns your baggage? Hainan Airlines has a generous baggage allowance. Business Class passengers can check in two pieces of luggage with a total weight not exceeding 32 kg, plus one additional piece of hand luggage (not exceeding 8 kg).
Onboard Experience
Once you have settled in your seat and embraced the fine leather, Hainan Airlines will make sure you have a truly memorable flight experience. So what can you expect when you board the plane?
Spacious and Comfortable Lie-Flat Seats
Hainan Airlines Business Class seats are among the widest in the industry. You can recline them into a full lie-flat position, giving you plenty of space to stretch out and get comfortable. Still, each of the aircraft has different seats, so it's worth checking the seat map of each plane you plan to fly in.
Boeing 787-9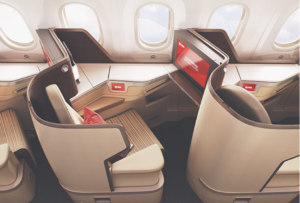 The seats are arranged in a 1-2-1 reverse herringbone configuration with five storage areas available for each seat. The seat shell features Nomex™ technical fabric for protection and a sleek appearance.
The leather headrest has a trompe l'oeil feather pattern for a 3D effect. The dining table area is adorned with walnut wood. The latest Panasonic EX3 Entertainment System is the state-of-the-art onboard entertainment system, which boasts an 18-inch 1080p HD definition screen.
Airbus 330-300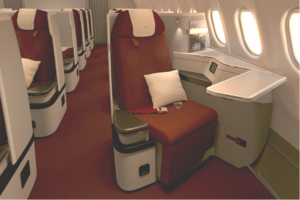 The seating arrangement in this aircraft is a 1-2-1 reverse herringbone configuration with a movable partition. It also includes a large 19-inch by 17-inch dining table that can be used as a desk.
The seat can be transformed into a fully flat bed almost two meters long. Additionally, there are three storage areas, and the armrests and side table can be easily converted. The entertainment system on board uses the top-of-the-line Thales AVANT technology.
Boeing 787-9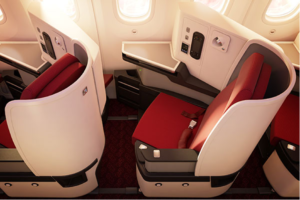 Next, Boeing 787-9 business class layout includes 1-2-1 seating to fully utilize the passenger cabin. The seats have an extended outer shell to provide privacy, and the middle seat has a partition that resembles a locker door.
You can lift the armrests for more space when lying flat, and there are four storage areas available. The latest Panasonic EX3 Entertainment System complements the ergonomic design.
Boeing 787-9, Boeing 787-8, Airbus 330-200, Boeing 787-9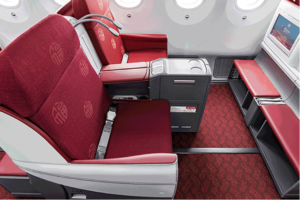 The plane seats are set up in a 2-2-2 pattern with a space between them of 74 to 75 inches. They can be transformed into beds that are almost 2 meters long. Additionally, each seat has a personal entertainment system between 10.6 to 16 inches in size.
Airbus 330-200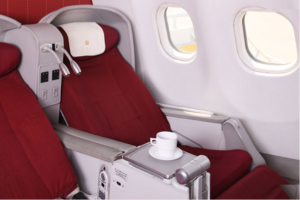 Here, the seats have a 2-2-2 layout and a 74-inch seat pitch. They can be transformed into a flat position. Additionally, the seats have charging ports that are compatible with various international plugs. The seats also come with a personal entertainment system that has a 10.6-inch screen.
Airbus 330-300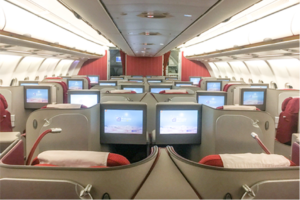 On Airbus 330-300, the seats are arranged in a configuration of one seat, two seats, and another one seat, and there are 44 inches of space between seats. They can be adjusted to become flat. Additionally, there is a personal entertainment system with a screen size of 15.4 inches.
Airbus 350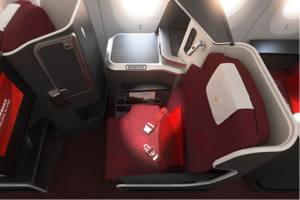 The seats are arranged in a staggered 1-2-1 layout. They are 27.5 inches wide and 76 inches long, and each seat has a cup holder, earphone hook, and privacy partition. There are also four storage areas available.
The entertainment system is the Panasonic EX3, which has a 16-inch 1080P HD touchscreen and remote control. This system is considered one of the best in the industry.
Delicious In-Flight Meals

Hainan Airlines offers many delicious meals for its Business Class passengers. The menus are carefully crafted and feature international flavors and classic Chinese dishes.
The menu is different for long- and short-haul flights. On long-haul flights that last more than 8 hours, they offer passengers two meal services using elegant bone china and fine cutlery.
They serve meals on request, so passengers can choose it whenever they feel like it.
The catering in Hainan Airlines' business class for short routes will cater to the eating preferences of Chinese passengers. It features light meals with regional flavors, healthy cooking techniques, and attentive service.
For beverages, Business Class passengers can choose from a wide variety of soft drinks, juices, spirits, and wines specially selected from the world's four corners.
In-Flight Entertainment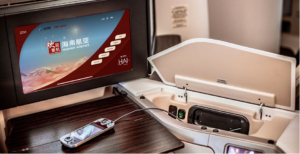 All Business Class passengers on Hainan Airlines have access to inflight entertainment. The Panasonic EX3 entertainment system offers a variety of movies, television shows, music, and games.
Audio-visual on-demand services are also available with many options for Languages, Movies, and Music. You can also keep up to date with the latest news or relax by listening to soothing classical music.
And if you are traveling with kids, they can enjoy their own selection of movies, games, and shows.
Amenities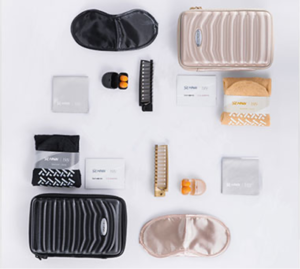 Hainan Airlines has chosen the "Hai Dream" collection of comfort products made in collaboration with globally recognized brands for your convenience.
The Hai series is a distinct, cutting-edge, and original line of products dedicated to luxury, practicality, and wellness, crafted and provided by travel specialists. Experience restful cloud-like sleep and elevate every air voyage with deluxe cleaning kits.
Bottom Line
Hainan Airlines has set a high standard for its business-class experience. From spacious and comfortable lie-flat seats to delicious inflight meals and a wide selection of entertainment options, it has something to offer for everyone.
Add thoughtful amenities and attentive service, giving you an unbeatable business-class experience. So, if you're looking for a luxurious yet affordable flight option, Hainan Airlines is the perfect choice.
https://simplybusinessclass.com/wp-content/uploads/2022/07/Logo-final-web-SBC.png
0
0
Viktoriya
https://simplybusinessclass.com/wp-content/uploads/2022/07/Logo-final-web-SBC.png
Viktoriya
2023-07-20 12:00:11
2023-07-13 14:03:44
Exquisite Amenities and Service: Unlocking the World of Hainan Airlines Business Class