Traveling in business class is one of the most luxurious experiences you can have with flying. With KLM Royal Dutch Airlines' impressive Premium Comfort amenities, it's easy to upgrade your flight experience and enjoy every minute of your journey!
Experience superior comfort before take-off with priority check-in services, increased personal space onboard, and high-end dining options crafted by KLM's internationally acclaimed chefs.
Whether you enjoy a leisurely breakaway or jet off on an important business trip, let us show you how flying premium comfort with KLM gives travelers the ultimate peace of mind.
Premium Comfort On Board: Why Should You Choose KLM Business Class?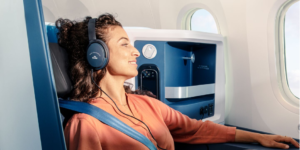 KLM Business Class is a gateway to the ultimate travel experience, providing travelers with a host of benefits that will make their journey comfortable, luxurious, and memorable.
Here are just a few of the benefits that come with flying KLM Business Class:
SkyPriority
KLM Business Class passengers receive priority treatment at every journey stage, from check-in to boarding to baggage claim.
This includes dedicated check-in counters, priority boarding and baggage handling, and access to the fast lane at immigration and security checkpoints.
SkyPriority ensures that your travel experience is as smooth and hassle-free as possible.
Privacy On Board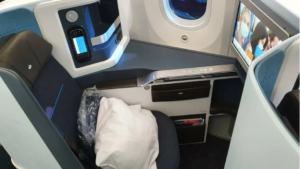 KLM Business Class provides passengers with privacy and comfort with its exclusive seating arrangement, which blocks the middle seat of each row to provide maximum personal space and privacy during the flight.
This configuration is perfect for those who value their privacy or simply want to enjoy a comfortable and relaxing flight. Seats are also designed for maximum comfort.
Comfortable Seats
KLM offers two different types of seats for those who are traveling in Europe or taking international flights. If you choose to fly Business Class within Europe, you will get extra legroom of up to 7.5 cm compared to a regular Economy Class seat.
You can recline up to 12.5 cm and will always get a window or an aisle seat. In case you are seated in a row of 3 seats, the middle seat will remain empty.
If you are traveling to another continent for leisure or work, consider booking a World Business Class seat, which will provide a relaxing and rejuvenating experience. With the full-flat seats, you can enjoy privacy and comfort and transform it into a bed whenever you wish.
The features of this seat include in-seat power, a privacy screen, a personal entertainment system of 16-18 inches, the guarantee of either a window or an aisle seat, and extra storage space.
Delicious Meals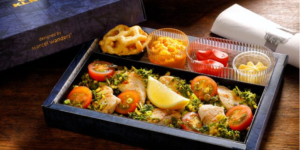 KLM Business Class welcomes passengers with a glass of champagne or jus d'orange and presents a delicious menu designed by top Dutch chef Jonnie Boer.
The gourmet meals are made with fresh ingredients, and menus are updated regularly to reflect seasonal dishes. Wine and other beverages are also served to complement each meal.
Should the passengers require any other meals based on their dietary preferences or requirements, KLM Business Class also provides customized dining options.
Do you have a flight shorter than 2 hours? If yes, KLM offers fresh sandwiches or a main course salad, plus an appetizer, organic yogurt, or dessert. For longer flights within Europe, they serve a 3-course dinner with a starter, a warm dish, and dessert.
KLM offers a new menu of dishes every three months to their World Business Class passengers traveling internationally. These dishes are served with a selection of fine wines carefully chosen by sommelier Thérèse Boer.
For example, currently, the starters include pasta shells filled with salmon, Thai red curry soup, Tom Kha Kai beef curry with beef strips, beef stew, veggie quiche with truffles, and many more.
To accommodate dietary needs on your intercontinental flight, you can request a meal that fits your requirements, such as low-fat, low-salt, diabetic-friendly, gluten-free, or lactose-free.
Please remember to make your request at least 24 hours before departure, and remember that separate orders are required for outbound and return flights.
Comfort Kit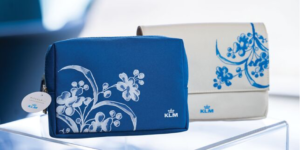 KLM Business Class passengers receive a comfort kit consisting of a cozy blanket, a pillow, and amenity sets featuring touches of Delft Blue design to ensure maximum comfort throughout the flight.
The set includes toiletries such as lip balm, moisturizer, socks, and other necessary items one might need during the flight.
Inflight WiFi and Engaging Entertainment
KLM Business Class passengers can stay connected with friends and family or work on their devices thanks to inflight WiFi available on most flights.
You can use the inflight WiFi when you are seated on the flight or in some countries shortly after take-off. All you have to do is switch your device to airplane mode, connect to our WiFi network, and then follow the steps on your screen.
Additionally, passengers can enjoy engaging entertainment, from blockbuster movies to live TV programs and games, making it a journey to remember. There is also a variety of content for kids, such as cartoons and interactive games.
KLM Houses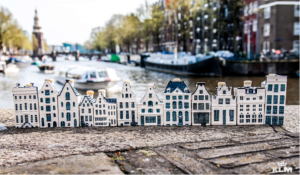 If you've ever traveled in Business Class on an intercontinental route with KLM, you may have noticed Delft Blue miniature houses.
These little houses are filled with Dutch gin and are designed to look like real Dutch buildings. They have been around since the 1950s and are highly valued by collectors.
With KLM Business Class, you can receive one of these miniature houses as a gift when traveling intercontinental, making your travel experience even more unique. Collect them all and make your journey one to remember.
Bottom Line
KLM Business Class offers its passengers many excellent services, from delicious meals to comfortable seating and engaging entertainment.
So whether you're traveling short-haul or long-haul, you can rest assured that KLM will keep your needs in mind and ensure you have an unforgettable experience.
KLM is committed to providing its customers with the best travel experience and strives to go above and beyond to make their journey as relaxing and enjoyable as possible. So, why not choose KLM Business Class for your next flight?
https://simplybusinessclass.com/wp-content/uploads/2022/07/Logo-final-web-SBC.png
0
0
Viktoriya
https://simplybusinessclass.com/wp-content/uploads/2022/07/Logo-final-web-SBC.png
Viktoriya
2023-05-22 12:00:51
2023-05-01 18:48:11
Upgrade Your Flight Experience with KLM Business Class