Why Should You Visit Edinburgh, Scotland?
Edinburgh is Scotland's capital city. It has beautiful countryside, a long history and a lively culture, Scottish style.
You'll find something new every time you turn a corner in Edinburgh. There's everything –  from the castle at one end of the historic Royal Mile to the modern Scottish Parliament building at the other.
It's not just a backdrop for its world-famous festivals; it's an experience that leaves you wanting more. So, let's get started on why you should make for Edinburgh next.
About the Location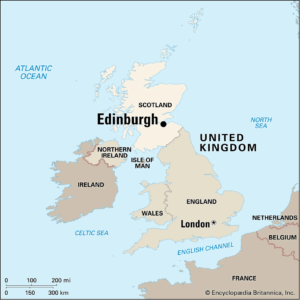 Edinburgh stands astride southeastern Scotland, with a shimmering North Sea coastline to its east and the rolling hills of the Pentland range to its west. The city is notable for its varied topography – rocky hills and valleys formed by ancient glaciers.
A dramatic extinct volcano looms over it all: Arthur's Seat, which affords panoramic views from its summit (the seat also offers numerous walking trails).
What passes for an inner-city wilderness, Holyrood Park, fringes Arthur's Seat. And snaking through town on an often picturesque course towards the Firth of Forth estuary is The Water of Leith River.
This fascinating geography adds much allure to Edinburgh, playing key roles in both its rich narrative and history (its architecture spans centuries), as well as being simply nice to look at: see below.
8 Things To Do in Edinburgh
If you're planning a trip to Edinburgh, here are 8 things you must do to truly experience the essence of this dynamic city.
Explore the Royal Mile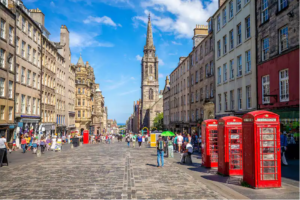 Edinburgh's Old Town can be found along the Royal Mile, which links Edinburgh Castle to the Palace of Holyroodhouse. Some of its landmarks include St Giles's Cathedral, John Knox's House, and the Scottish Parliament Building.
For instance, you could tour Edinburgh Castle, a medieval fortress that houses Scotland's Crown Jewels and boasts panoramic views across the city. Or how about a visit to The Palace of Holyroodhouse? This is an official residence of HM The Queen in Scotland.
There are also plenty of traditional Scottish shops, restaurants, and bars on or near this street – so don't miss popping into The Scotch Whisky Experience for a wee dram.
Climb Arthur's Seat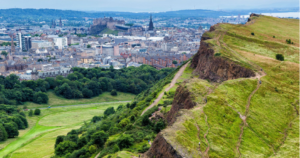 For stunning vistas over Edinburgh and beyond, head for Arthur's Seat – an extinct volcano in Holyrood Park that's ideal for picnics and hiking. On clear days, you can see as far as Fife or even out towards West Lothian into Midlothian.
Whether you go for a full-on hike or take things at a more leisurely pace (it takes about 30 minutes to reach the summit), it delivers unforgettable memories.
Visit the National Museum of Scotland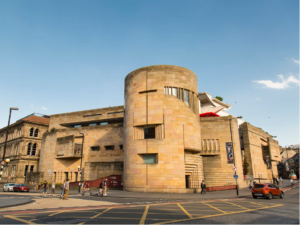 History buffs will definitely want to pop by the National Museum of Scotland. Here, visitors get access to over 20,000 artifacts that reveal key aspects of Scotland's past, from prehistory right through to contemporary history.
Plus, there are items from around the world, too, including mummies from ancient Egypt and unique natural history displays.
The highlight is undoubtedly Dolly The Sheep – who became famous in 1996-97 after being cloned at what was then known as The Roslin Institute. Other fascinating artifacts include Robert Burns' writing desk plus Mary Queen Of Scots' death mask.
Uncover Scotland's Past at its Castles and Abbeys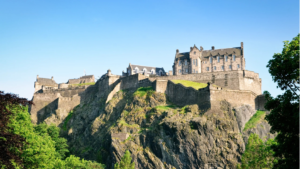 Scotland has a past that stretches back centuries, and one of the best places to immerse yourself in that history is at the country's many castles and abbeys.
Edinburgh Castle is an iconic must-see, as is Stirling Castle, which had a starring role in Scotland's past.
Then there are the ruins of ancient abbeys such as Melrose Abbey and Jedburgh Abbey – offering not just some understanding of Scotland's religious history but also surrounded by stunning landscapes.
Experience the Edinburgh Festival Fringe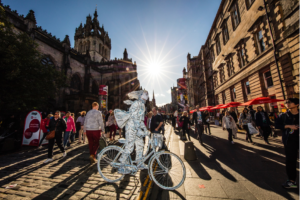 The world's biggest arts festival, the Edinburgh Festival Fringe, takes place every August with thousands of performances across hundreds of venues throughout the city: comedy, theatre, dance, music – it has everything covered.
It attracts visitors from around the globe who come to enjoy this vibrant celebration of art and culture.
Although it does have a central theme each year (albeit very loosely), anyone can participate; it adheres to what's called an open-access policy.
That means you end up with performances on all sorts of subjects by all manner of performers popping up in unusual places or having a go for themselves.
In other words, you never know quite what you'll encounter next. With so much going on over three weeks or so, there really is something for everyone at Edinburgh Festival Fringe.
Take on The Highlands on Foot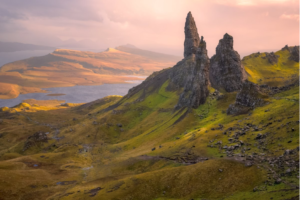 Scotland is known for its landscapes. Think rugged mountainscapes and dramatic glens topped off with lovely lochs – none more so than in The Highlands.
They're perfect hiking, too. This region offers some great walks, from simple day hikes to full-on multi-day treks. Here, you'll be rewarded en route by views worth stopping for.
One popular hike? Try tackling the West Highland Way National Trail. All 96 miles will take you through some truly scenic parts of Scotland.
And then there's that lake. Loch Ness needs no introduction, thanks to its resident monster – or lack thereof – but it's worth a walk along for the loch itself.
Sample Traditional Scottish Cuisine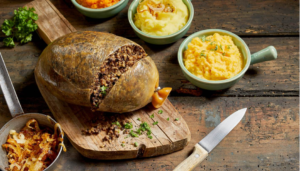 Scotland is famous for its traditional cuisine. And no visit to the country would be complete without sampling some local dishes.
Haggis, shortbread, and more are on offer – and if you're bold enough, you can try them all! There are also opportunities to visit whisky distilleries for a taste of the national drink. Or sip some locally brewed craft beer in one of Edinburgh's many pubs.
For an unforgettable dining experience, book in at one of Scotland's Michelin-starred restaurants. They serve modern takes on traditional Scottish dishes with locally sourced ingredients.
Indulge in Whisky Tasting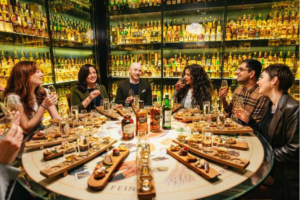 Scotland is legendary for whisky production. And there are countless distilleries throughout the Highlands and Lowlands that offer tours and tasting sessions.
It's worth taking advantage of these guided visits as they'll teach you about different types of Scotch whiskies – as well as how it is made – while offering tastings of some incredible single malts.
May is a prime month to visit if you're a true whisky enthusiast. That's when the annual Spirit Of Speyside Whisky Festival takes place.
The event showcases more than 500 different whiskies from over 50 distilleries. Any self-proclaimed fan should have this festival on their bucket list.
Bottom Line
Scotland has so much to offer visitors by way of natural beauty, history, and experiences. If outdoor pursuits aren't your thing, then perhaps great food or whisky (or both) might persuade you instead.
When it comes down to it, there really is something for everyone here, so why wait? Start planning your Scottish adventure today – don't forget your camera either; there will be plenty of amazing memories to capture.
https://simplybusinessclass.com/wp-content/uploads/2022/07/Logo-final-web-SBC.png
0
0
Viktoriya
https://simplybusinessclass.com/wp-content/uploads/2022/07/Logo-final-web-SBC.png
Viktoriya
2023-11-13 11:51:46
2023-11-13 11:51:46
Why Should You Visit Edinburgh, Scotland?