Indulge in Unmatched Elegance and Service with British Airways First Class
Prepare for the ultimate in luxury on your next flight. Step aboard British Airways First Class, and you'll find indulgence, elegance, and personal service from the moment you arrive until long after you leave.
From spacious, private suites to delicious dining and your own dedicated cabin crew, every aspect of your journey is designed around exclusivity.
Tuck into tempting dishes created by top chefs with carefully chosen ingredients. Pair them with a fine wine or premium spirit – all part of their complimentary food-and-drink offering.
And if it's the relaxation you're after, start working on that holiday feeling before take-off in one of their elegant lounges (or on arrival at select airports).
It's a haven of tranquility where you can grab some peace ahead of a busy schedule or simply indulge yourself before boarding.
Why Should You Choose British Airways First Class?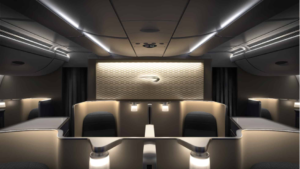 When it comes to flying in pure luxury and comfort, British Airways First Class truly stands out from the crowd. Here's why you should consider this sumptuous option for your next trip.
Unparalleled Airport Experience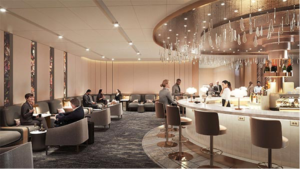 British Airways First Class provides an airport experience like no other. Make the most of elegant departure lounges prior to your flight – these smart, luxury spaces offer fine wines, drinks, and food, as well as a range of business facilities if you need to work.
On arrival at London Heathrow, don't miss a visit to the Arrivals lounge on Level 1 of Terminal 5, where you can refresh and get ready for what's next.
And if you get the chance, indulge in The Concorde Room – exclusive first-class lounge, which is only located at London Heathrow Terminal 5 – discreet booths are available, along with full waiter service and private cabanas, plus a state-of-the-art business suite.
The Chelsea Lounge at New York JFK Airport's Terminal 8 is another fabulous lounge option.
Exclusively available for British Airways and American Airline First passengers – enjoy its circular champagne bar or fireside cocktails pre-flight alongside exquisite à la carte dining options.
To ensure efficient check-in processes, First customers benefit from dedicated check-in desks and fast-track security lanes at various airports.
At London Heathrow Terminal 5, there's also The First Wing – an exclusive area for First customers along with Executive Club Gold members and Oneworld Emerald flyers – fast track through security straight into the Galleries First Lounge via an elegant corridor adorned with contemporary art works around its walls.
Comfortable Seats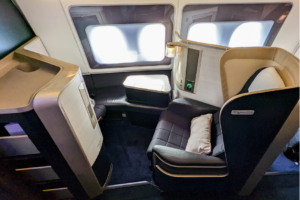 Experience the pinnacle of comfort and luxury with British Airways First Class seating. Each spacious suite or seat offers ample room to relax, work, or enjoy a fantastic night's sleep.
Your seat effortlessly becomes a fully flat 198cm (6ft 6in) bed with a luxurious quilted mattress, crisp white cotton duvet, and pillow – so you can arrive refreshed.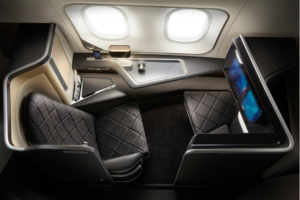 And now, on Boeing 787-9 Dreamliner aircraft, there are just eight seats in First cabin compared to the usual 14. It is creating even more exclusivity and privacy when you travel. This dramatic change has been achieved by reducing the number of rows from four to two.
But what about privacy? All suites have doors that fully close for total seclusion when you want it – though they don't go all the way up to the wall when open.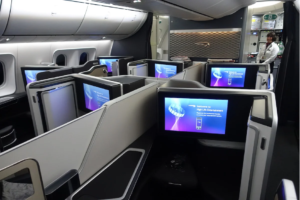 So, if passengers walk down the aisle without closing their door completely, there could be some visibility over it. But given you're not looking at your neighbor anyway, eye contact would need a contortionist's technique to achieve directly across from each other regardless.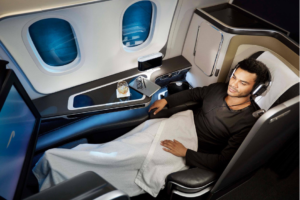 Treat yourself to some elegance and relaxation traveling at its finest in British Airways First class seating – where traditional British design meets contemporary styling for an unforgettable experience.
Delicious Dining Experience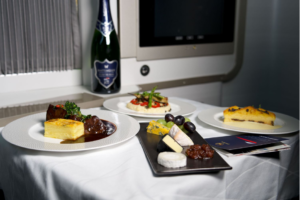 Embark on a gastronomic odyssey with British Airways First Class cuisine. With the "Dine Anytime" alternative, you can tailor-make your dining experience.
Sample exclusive dishes made from premium British ingredients and served with flawless service.
On top of delicious meals, there's also an assortment of snacks and drinks available to you: cocktails, mocktails, Champagne, spirits, and wines – including single-estate sake.
Every component is meticulously designed to elevate your dining pleasure –from freshly picked organic vegetables to fragrant herbs. Get ready for a culinary exploration that blends ingenuity and elegance in every mouthful!
In-Flight Entertainment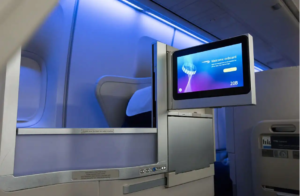 Experience unbeatable entertainment and connectivity on your British Airways First Class flight. Their 15-inch personal screen and ports for connecting your own devices. So, you can sit back, relax, and enjoy the finest in-flight entertainment.
Block out unwanted noise with noise-canceling headphones. So you can fully immerse yourself in hours of great films or TV shows from Paramount+. Keep up to date with all the latest movie releases while flying.
As a First customer, you also benefit from complimentary Wi-Fi for the duration of your flight. Stream music, catch up on movies or TV shows, browse the web, or email/message. Everything goes at no extra cost from start to finish.
Just connect to 'BAWi-Fi' network onboard, click on 'Free Wi-Fi' in your browser, and verify that you're a First customer by selecting your name/seat number/booking reference.
Amenity Kit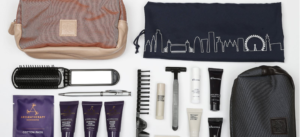 Discover a whole new level of in-flight satisfaction courtesy of British Airways. Specially designed travel essentials will take your experience to the next level.
Produced in conjunction with Temperley London, stylish his and hers amenity bags are the height of sophistication. They are complete with designs that change seasonally.
Inside these sumptuous bags, you'll find a carefully chosen range of high-quality skincare products by Elemis. It is one of Britain's best-loved beauty brands, which includes items from its Ultra Smart pro-collagen range.
Using the latest technology for outstanding results, this collection allows you to cleanse, revive, and hydrate your skin during your ultra-luxurious first-class flight.
So why not give in to temptation and let this irresistible mix of style and premium skincare help make your journey extra special?
You can be sure that when you touch down at your destination – whether it's Hong Kong or Honolulu – after a long-haul flight, feeling refreshed is guaranteed.
Bottom Line
Prepare to be immersed in the unparalleled opulence and service of British Airways First Class. It is an experience that leaves all others behind.
The moment you step on board, you'll find yourself swept into a world of luxury beyond your wildest dreams. From roomy, private suites to personalized service and delectable dining options – every detail is designed to delight.
Sit back, sink in, or stretch out. No matter how you choose to relax, work, or be entertained on your flight, well-appointed cabins will keep you comfortable and content.
Sink into fully flat beds with crisp white sheets when it's time for sleep. Put on noise-canceling headphones when it's not.
And lose yourself in hours of top-quality programming from around the world with thousands of hours of entertainment at your fingertips. British Airways First Class: expect the extraordinary!
https://simplybusinessclass.com/wp-content/uploads/2022/07/Logo-final-web-SBC.png
0
0
Viktoriya
https://simplybusinessclass.com/wp-content/uploads/2022/07/Logo-final-web-SBC.png
Viktoriya
2023-11-16 12:00:51
2023-11-16 10:57:05
Indulge in Unmatched Elegance and Service with British Airways First Class