Unlocking Luxury: Air China Business Class Review
Experience luxury like never before – with Air China Business Class. Travel no longer remains an obligation. Rather, it becomes, in essence, a journey of joy – where you revel in comfort and conveniences as you fly across the globe.
Relish indulgent amenities, first-rate service, and exquisite cuisine are all fashioned to make your flight nothing short of amazing! Right here, we'll go into detail on what precisely makes flying with Air China so special. Buckle up for the ride!
Why Should You Choose Air China Business Class?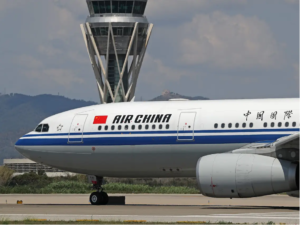 Air China takes flying to a whole new level with its premium business-class experience.
From the attentive service, advanced amenities, and meticulous attention to detail, Air China has rightfully earned its place as one of the most sought-after airlines in the world.
It's no wonder that they've been consistently lauded for their excellence!
Airport Experience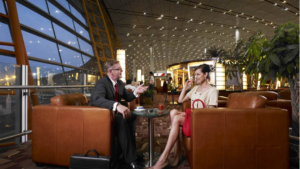 Start your Air China Business Class experience right from the moment you set foot into the airport! Proceed directly to our exclusive check-in zone to hasten and streamline your boarding process before embarking ahead of all other travelers.
If a long layover is in front of you, then take security in a very stylish lounge full of fast Wi-Fi, lots of dining options, and entertainment choices. This place is designed to make sure that your wait time is relaxed.
You will also have private relaxation lounges and showers for freshening up during transit times. So you'll be ready for the next leg of your flight!
Working or relaxing before the flight, they will ensure maximum comfort & efficiency at every step of the way.
Comfortable Seats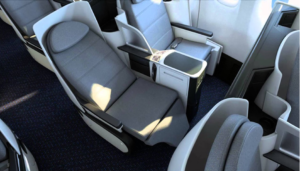 Air China's Business Class seats have been carefully crafted to guarantee the utmost comfort and seclusion. Encased in a shell-like design, they become your own private oasis as you soar through the skies!
The expansive chairs transform into fully flat beds. So that you can kick back and relax during lengthy journeys – with plenty of space for stretching out comfortably.
And if that weren't enough, individual reading lights plus power outlets & USB ports are located conveniently within reach. They are adding even more ease to an already extraordinary experience!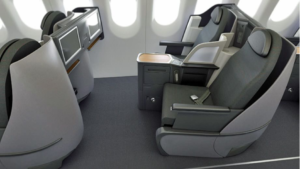 Air China's Business Class cabin offers an unbeatable seating configuration – 2-2-2 with direct aisle access for most passengers.
Each seat is outfitted with a large, personal entertainment screen complete with noise-canceling headphones. You can watch movies, listen to the music, and play games much more enjoyable!
Do you need to get some work done during your flight? You're in luck. The foldout table provides plenty of workspace, while privacy partitions help keep distractions at bay.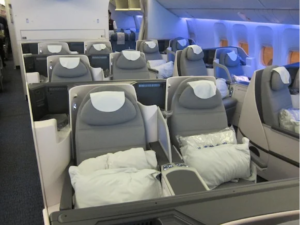 Even better – storage space abounds, so there's no lack of room when it comes time to stow away all those items from laptops down to shoes. It truly feels like having your own private suite!
The New Airbus A350 Business Seats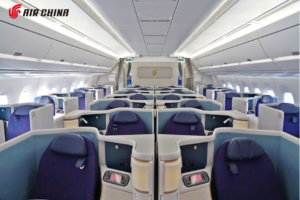 This year, Air China has made a huge splash in the Chinese carrier industry with their new business-class cabin for the Airbus A350.
The Recaro CL6720 seats boast an impressive mini-suite design that's both luxurious and innovative; it features full-height walls to provide privacy without sacrificing space.
Stylish purple seating is complemented by elegant blue walls trimmed with gold.  Not to mention its ergonomic advantages like adjustable headrests and premium foam technology. These make the seats some of the most comfortable around!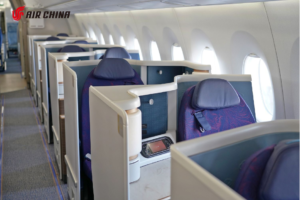 Plus, at 78 inches long when fully extended into lie-flat mode, this model provides one of longest bed lengths available today – so passengers can stretch out in style during those longer flights.
All things considered, Air China has certainly set a high bar for other carriers aiming to offer luxury travel experiences!
Dining Experience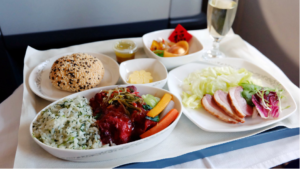 Air China's dining experience is a unique combination of Chinese and Western cuisines that can satisfy all passenger preferences. An in-flight menu will be printed, featuring a multi-course meal served on elegant china with complementary flatware over an inviting tablecloth.
It starts off with hot towels, followed by the perfect apéritif to get your appetite going – then comes the amuse bouche accompanied by nuts for snacking.
Next up are appetizers and salads before finally arriving at the main courses. They include two Western options as well as two delicious Chinese dishes – one being vegetarian!
To finish it off, there's cake or fruit for dessert, plus refillable drinks throughout your flight duration if you wish them.
Longer flights nearing arrival time come complete with both Western & Eastern choices depending on the day part.
Additionally, some routes even offer passengers convenience through online preorder meals, including vegetarian', Muslim ones', or seafood variations beyond what's already available onboard!
In-Flight Entertainment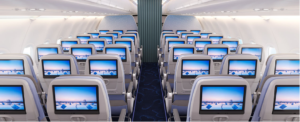 Settle in and enjoy the ride with Air China's expansive range of inflight entertainment! As you take your seat, be sure to check out the large screen right in front.
This sophisticated setup comes complete with both touch-screen and remote-control technology for effortless browsing through their comprehensive selection.
Chinese films, Hollywood blockbusters or international classics, short documentaries or classic sitcoms – whatever takes your fancy.
To make viewing even better noise, noise-canceling headsets are available at boarding, so there's no need to miss a moment.
And if that wasn't enough on longer flights, why not follow along as you fly via an interactive moving map display? No Wi-Fi is needed here – just kick back, relax, and let them show you what they have onboard!
Amenity Kits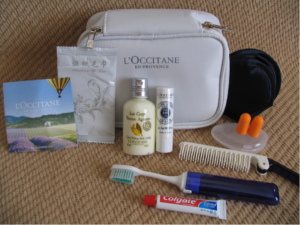 Air China provides passengers with an exceptional travel experience, offering L'Occitane toiletries in amenity kits and keeping the bathrooms well-stocked.
Not only that, but those who need it can request stationary sets or toys for children to make their journey more enjoyable.
Additionally, each seat comes equipped with a pillow and blanket – though you may want to bring your own as Air China planes tend to be kept at higher temperatures!
For extra comfort during the flight, there are also complimentary slippers available upon request.
Bottom Line
To sum it up, Air China stands out among Chinese airlines for its comfortable and entertaining in-flight experience.
Although Wi-Fi is not available on board, they offer a wide selection of entertainment options as well as an impressive moving map display that more than makes up for the lack thereof.
The airline also provides thoughtful amenities like L'Occitane amenity kits and additional services to meet passengers' needs with attention to detail seen through their spotless bathrooms, too!
Not forgetting pillows, blankets & slippers, which add extra comfort even despite slightly warmer temperatures onboard. Air China is working towards making long journeys both enjoyable and convenient.
https://simplybusinessclass.com/wp-content/uploads/2022/07/Logo-final-web-SBC.png
0
0
Viktoriya
https://simplybusinessclass.com/wp-content/uploads/2022/07/Logo-final-web-SBC.png
Viktoriya
2023-11-09 12:00:40
2023-11-09 11:26:09
Unlocking Luxury: Air China Business Class Review