Discover the Magic: 7-Night Mediterranean-Western Cruise Adventure of a Lifetime
Get ready for an unforgettable adventure across the Mediterranean Sea with MSC Fantasia's 7-Night Mediterranean-Western Cruise.
Expect incredible sights, luxurious facilities, and memories that will last a lifetime. Whether you're looking for a romantic getaway or a fun-packed break with the kids – we've got it covered.
From vibrant cities like Barcelona and Naples to sun-drenched beaches in Marseille and Palma de Mallorca, each day of this once-in-a-lifetime trip on our plush ship, MSC Fantasia, promises eye-popping moments!
About the Ship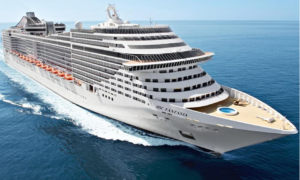 If you're considering a cruise holiday, then look no further than MSC Fantasia! Launched in December 2008, what's not to love about this fabulous vessel?
MSC Fantasia is an impressive 333m long – roughly three-and-a-half football pitches – carrying around 3,959 passengers. There are loads of top-notch cabins and suites to choose from, too.
Incidentally, there'll be about 1,313 crew members onboard at any time during your holiday, catering to your every whim. Expect first-rate service throughout your journey.
But wait… there's more! Get ready for world-class amenities, including multiple swimming pools (some with whirlpools), sumptuous spas, and tasty eating options (including sushi). And much more besides!
Accommodation On Board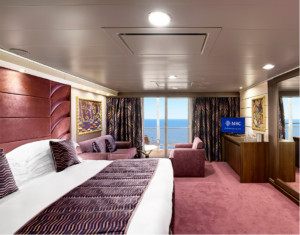 Every traveler's needs and tastes are catered for on MSC Fantasia with a wide range of room types. The Interior cabins are cozy havens in which to relax after an action-packed day.
Providing the perfect wake-up call, thanks to their picture window views of the ocean, Oceanview cabins share the same dimensions as Interior cabins.
For supreme luxury, Balcony cabins afford guests privacy and their own outdoor space from which to enjoy superb sea vistas.
For some additional indulgence – such as priority boarding, complimentary access to exclusive facilities, and dedicated butler service – there's nothing better than one of MSC Fantasia's Suites: spacious accommodations with separate living areas and private balcony.
Rest assured that whatever type of cabin you choose – comfort and elegance will be two priorities.
All accommodation is tastefully furnished using quality materials, offering all mod cons – and providing you with a peaceful retreat during your cruise adventure.
Activities & Entertainment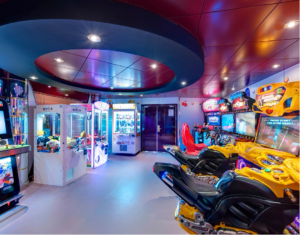 The range of things to do and experience on board the MSC Fantasia is as extensive as it gets, meaning you can be sure that every member of the family will have the time of their life.
Wake up nice and early for a swim in one of the ship's many luxury pools or soothe those muscles in a whirlpool – where better to get moving than on one of Europe's biggest cruise ships?
Fitness fan? You'll love a state-of-the-art gym equipped with all the latest gear – there are even classes if you like getting your heart rate up with others.
Indulge yourself at designer boutiques offering fantastic duty-free shopping opportunities, or treat yourself to a beauty treatment or massage at a luxurious onboard spa.
Children are well looked after by experienced Kids Club staff who organize numerous activities throughout the day designed to appeal to different age groups, such as games, crafts, and sports.
And when night falls, expect some top entertainment. We're talking Broadway-style shows in the theatre; we're talking about trying your luck in the casino, dancing until dawn in one of the lively clubs.
Dining Options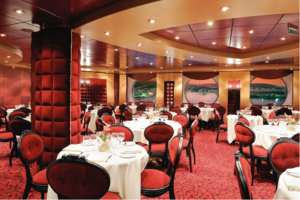 The dining options on the MSC Fantasia are numerous and varied, providing something to suit everyone.
From a casual buffet meal in the Marketplace Buffet Restaurant to fine dining at any of the specialty restaurants such as Il Cerchio d'Oro or Red Velvet Restaurant, guests are able to enjoy fantastic food from around the world.
MSC Fantasia has an international staff of chefs who provide Mediterranean-inspired cuisine that is simply delicious. Using only top-quality ingredients, some dishes will simply take your breath away!
If you are a seafood lover, there is plenty here for you, too – expertly prepared by specialist chefs.
Fine wine selection with meals is just not a problem either. The ship houses several bars and lounges where you can sip cocktails prior to or after dinner and also have fun with just about every conceivable drink throughout each day, right up until late evening hours.
If you want gourmet food inside fascinating spaces or perhaps sophisticated places serving drinks, MSC Fantasia offers them all!
Itinerary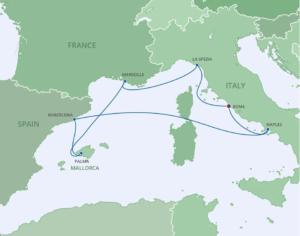 Embark on an unforgettable 7-night Mediterranean-Western Cruise aboard our luxurious cruise liner. Here's a detailed itinerary of the breathtaking journey:
Day 1: Barcelona, Spain – Your adventure begins in the enchanting city of Barcelona at 6:00 PM as you set sail, soaking in the vibrant culture and architecture.
Day 2: Marseille, France – Arrive in Marseille at 9:00 AM, where you'll have the day to explore this picturesque French port city before departing at 6:00 PM.
Day 3: Genoa, Italy – Immerse yourself in the beauty of Genoa, Italy, with a full day from 9:00 AM to 6:00 PM to discover its rich history, art, and cuisine.
Day 4: La Spezia (Cinque Terre), Italy – Explore the stunning Cinque Terre region with a stop in La Spezia from 7:00 AM to 5:30 PM, taking in the breathtaking landscapes.
Day 5: Naples, Italy – Arrive in Naples at 1:00 PM, where you can indulge in the city's history and cuisine until departure at 7:30 PM.
Day 6: Cruising – Enjoy a day of relaxation at sea, taking in the Mediterranean views as you prepare for the next exciting destination.
Day 7: Palma de Mallorca, Spain – Discover the beauty of Palma de Mallorca from 10:00 AM to 8:00 PM, exploring its historic sites and vibrant atmosphere.
Day 8: Barcelona, Spain – Conclude your Mediterranean-Western adventure in Barcelona at 8:00 AM, bringing your unforgettable cruise to an end.
Excursions
MSC Fantasia will take you on an incredible Mediterranean adventure, where each port has its own unique blend of history, culture, and natural beauty.
Barcelona, Spain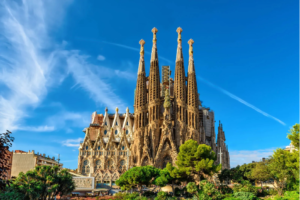 In Barcelona, don't miss two of the city's most iconic works by the master architect Antoni Gaudí – the Sagrada Família and Park Güell. Stroll along Las Ramblas or dine out on delicious tapas to immerse yourself in this vibrant city's lively atmosphere.
Marseille, France
Explore Marseille's charm in the picturesque Vieux Port – once a bustling trading center – or wander around the historic Le Panier neighborhood. Can't-miss sights include Notre-Dame de la Garde for panoramic views or Calanques National Park if you have time to take a boat trip.
Genoa (Milan), Italy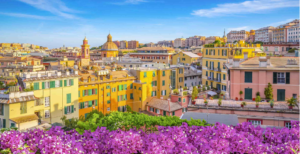 The birthplace of Christopher Columbus is steeped in history and architectural grandeur. Explore Palazzi dei Rolli's beautiful buildings.
Be awestruck by the splendor of Palazzo Ducale, or discover Europe's largest medieval city center. Don't forget to sample local specialties like pesto pasta and fresh seafood dishes!
La Spezia (Cinque Terre), Italy
Make sure to visit Cinque Terre! These five enchanting villages are strung together like pearls on a necklace between cliffs and the sea.
Hike on scenic trails with breathtaking views that overlook colorful houses clinging onto cliffs or enjoy some beach time at Monterosso al Mare – it would be rude not to!
Naples/Pompeii/Herculaneum, Italy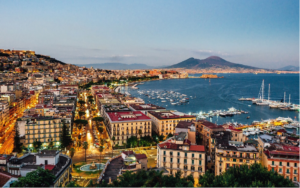 Step back in time when visiting Naples. Pompeii was buried under ash when Vesuvius erupted 2,000 years ago, while Herculaneum suffered a similar fate. Both sites offer jaw-dropping insights into life as it was then…
Palma de Mallorca, Spain
With its impressive Gothic Cathedral and charming Old Town, Palma de Mallorca is a pleasure to explore. Alternatively, relax on beautiful white sandy beaches or walk along stunning coastal paths to find hidden coves.
Bottom Line
Are you ready for the adventure of a lifetime? If so, MSC Fantasia's 7-night Mediterranean-Western Cruise is perfect for you. Barcelona's vibrant cityscape, Cinque Terre's stunning landscapes, and Naples' historical charm are among Europe's most captivating destinations.
Each day, you can dine on delectable food in luxurious accommodations and enjoy various entertainment options. This journey has everything: cultural immersion, scenery to die for, or relaxation.
Embark on MSC Fantasia's Mediterranean-Western Cruise experience right away if you're prepared to have an unforgettable time!
https://simplybusinessclass.com/wp-content/uploads/2022/07/Logo-final-web-SBC.png
0
0
Viktoriya
https://simplybusinessclass.com/wp-content/uploads/2022/07/Logo-final-web-SBC.png
Viktoriya
2023-11-20 11:43:11
2023-11-20 11:43:11
Discover the Magic: 7-Night Mediterranean-Western Cruise Adventure of a Lifetime