Why Should You Visit Aspen, Colorado?
If you're looking for a stunning mountain getaway, look no further than Aspen, Colorado. Nestled in the Rocky Mountains, this vibrant destination offers an enchanting landscape of natural wonders and year-round outdoor activities that will take your breath away.
From incredible skiing to thrilling hikes up Four Pass Loop with views of Maroon Bells and magnificent wildlife sightings – there is something in Aspen that everyone can enjoy!
So whether you are traveling solo or bringing the whole family along, explore why Aspen is one of the most iconic spots to escape to in all of America.
About the Location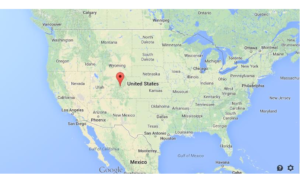 Aspen, Colorado, is located in the heart of the Rocky Mountains, surrounded by the White River National Forest. It's a few hours away from Denver and just over 6,000 feet altitude-wise – making it the perfect elevation for experiencing all four seasons.
The city was founded by miners in 1879 and was originally called Utah City, after the Utah Indians who once inhabited the area. The name Aspen was given to it only in 1880. After the silver boom, Aspen became a popular destination for skiers and outdoor adventurers.
Besides, Aspen is known as an enclave of luxury ski resorts and fine dining. Still, it also offers a unique and laid-back atmosphere that is perfect for adventurers who want to explore its surrounding natural beauty.
Here everyone will find time for long walks and breathtaking entertainment. Clean air, green pines, and the fluffiest snow will not leave anyone indifferent.
What Places Should You Visit in Aspen?
Aspen is home to many outdoor activities, from skiing and snowmobiling in the winter to hiking, mountain biking, and rock climbing during the summer. From its picturesque slopes, you can ski the world-renowned Aspen Mountain or hit the terrain park over at Snowmass.
Here are the best tourist destinations in Aspen:
Aspen Ski Resorts
Aspen is widely known worldwide as one of the best ski resorts in North America. It consists of four separate ski areas: Aspen Mountain and Snowmass (from late November to mid-April), Aspen Highlands and Buttermilk (from mid-December to early April). There is a free shuttle between the zones, and they all share the same ski pass.
Aspen Mountain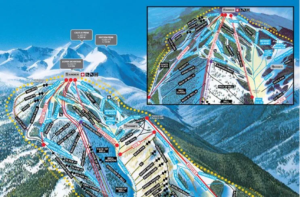 Aspen Mountain has 76 pistes on its territory, with a length of 103 km. Most of them are slopes for experienced skiers and snowboarders, eight lifts, and the world's only fun park for skiers only. Mount Ajax rises above Aspen.
Aspen Snowmass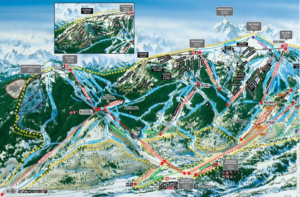 Snowmass is 12 miles from Aspen. There are trails for skiers and snowboarders of all skill levels. Snowmass has a vast skiing area: 83 pistes with a total length of 220 km, served by 21 lifts, two snowboard parks, and two half-pipes – open concave structures inside which athletes can perform jumps and tricks.
Aspen Highlands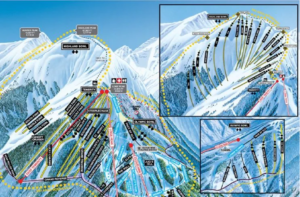 Aspen Highlands has trails for every taste and four lifts. It is best known for its difficult slopes. Their total number here is 131, the length is 105 km, and the longest descent is 5600 m.
Aspen Buttermilk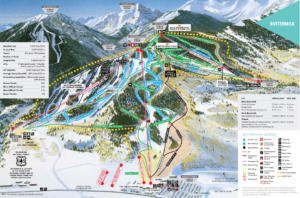 Buttermilk hosted the Winter Extreme Games in 2002, 2003, and 2004, which says a lot about the level and difficulty of the slopes here. There are 43 tracks with a total length of 34 km, seven lifts, the longest fan park in the world (2 miles), and a slope-style track for acrobatic jumps on skiing or snowboarding.
Thermal Spa in Glenwood Springs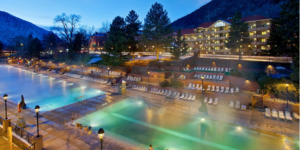 Previously, real Indians belonging to the Ute tribe lived here. Today, the territory of the town of Glenwood Springs is occupied by the most famous balneological resort in the United States, which has the largest thermal pool in the world – the real pride of the country.
The temperature in the pool is about 60 degrees, allowing you to swim here at any time of the year because the pool is in an open area. In addition, the high content of sodium chloride allows people suffering from joint diseases to bathe here for medicinal purposes.
White River National Park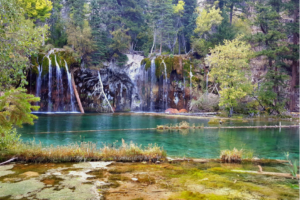 The park was founded back in 1891, so it is the oldest and one of the largest nature reserves in the country. Occupying an area of 930,000 hectares, the park covers the lands of as many as ten counties in the state of Colorado and also offers a lot of entertainment.
For example, you can ski here or go hunting, ride a horse or ride a bike. In addition, a river flows through the park so that real thrill-seekers can go rafting, fishing, kayaking, or rafting.
If you like to contemplate nature, the park offers hundreds of kilometers of trails along which you can walk and admire the beauty of nature. White River National Park is one of the most visited in Colorado and has become a symbol of national pride.
Maroon Bells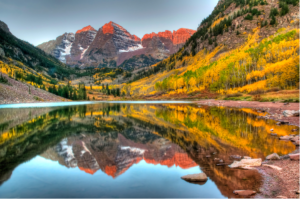 Maroon Bells is one of the most photographed places in the United States. This location offers a stunning view from two craggy peaks, Maroon Peak and North Maroon Peak. Here you can even go on a horseback ride and enjoy the fantastic views of the valley.
In addition, you can go fishing in Maroon Creek or take a walk along its banks. The area around Maroon Bells also offers many hiking opportunities and is the ideal place to relax and enjoy nature.
The John Denver Sanctuary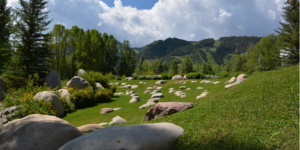 This place is a tribute to the famous musician and poet John Denver, who wrote one of his most famous songs – "Rocky Mountain High," – here. The sanctuary is located near the park, on the banks of the Roaring Fork River, and it features a sculpture of Denver in the middle of the lake. Here you can enjoy the view, take pictures and even skate on the pond in winter.
Bottom Line
These are just some of the attractions that Aspen has to offer. Whether you're looking for adventure, relaxation, or just a place to take in the area's natural beauty, Aspen has something for everyone. No matter what type of traveler you are, Aspen is sure to have an experience that will make your visit to Colorado unforgettable. So come, explore, and experience all that Aspen has to offer!
https://simplybusinessclass.com/wp-content/uploads/2022/07/Logo-final-web-SBC.png
0
0
Viktoriya
https://simplybusinessclass.com/wp-content/uploads/2022/07/Logo-final-web-SBC.png
Viktoriya
2023-01-12 12:00:12
2023-01-08 15:20:15
Why Should You Visit Aspen, Colorado?