Journey to Antiquities: Explore Lands of Ancient Empires with Viking Ocean Cruises
Take a journey to explore the classic and exotic lands of once-powerful empires without leaving the comfort of your own ocean cruise. Viking Ocean Cruises offers extraordinary tour packages that allow you to experience cultural highlights in multiple countries in one trip.
The knowledgeable crew will show you all the best places to visit along the way so that you can discover sights unseen by many travelers today. With Viking Ocean Cruises leading your path, prepare for an unforgettable adventure into centuries-old cultures steeped with tradition, antiquity, and wonder!
Read this post to find out about the incredible destinations during your Journey to Antiquities that Viking Ocean Cruises can take you to.
About the Ship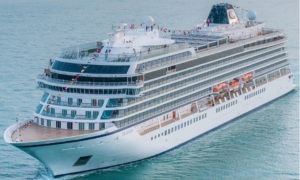 The highly anticipated Viking Saturn is set to make a grand entrance in early 2023, becoming the ninth addition to Viking Cruises' oceangoing fleet after its 2022 counterparts.
With chic Scandinavian design and sophisticated vibes that cater exclusively to adults, this vessel will be nearly identical to its predecessors but offer guests an even more elevated experience at sea.
The magnificent Viking Saturn stands an impressive 227m long, with a beam width of 28.8m and 48,000t in gross tonnage. Boasting nine decks and accommodations for up to 930 guests, this stunning vessel can cruise at speeds of 20 knots!
Accommodation On Board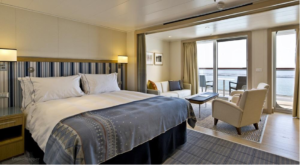 With a consistent 465 staterooms, the Viking fleet provides guests with three veranda options: Veranda and Deluxe Veranda (270ft²), or Penthouse Veranda – offering 338ft² of space. In addition, each room is equipped with its own private verandas, allowing for an unforgettable getaway that you won't soon forget!
With all staterooms providing amazing views of your destination, you'll never miss a beat. You can easily access the veranda through floor-to-ceiling sliding glass doors or relax in the king-size beds and enjoy modern amenities such as Freyja® bath products, heated floors, free Wi-Fi, and an interactive flat screen LCD TV for your entertainment!
Viking Saturn offers 14 Explorer suites, an exclusive two-room haven with mesmerizing wraparound private verandas that promise breathtaking views. Each suite proffers a generous 757ft² to 1,163ft² of space, including the veranda – creating the ultimate luxury experience.
Unwind in the roomy Penthouse Junior suite, boasting 405ft² of space. Or opt for the luxurious Owner's suite with 1,448ft² of living area and all the extra conveniences you'll need: a separate bedroom suite, a dining area that accommodates up to six people, and even a boardroom seating 12 persons.
Amenities On Board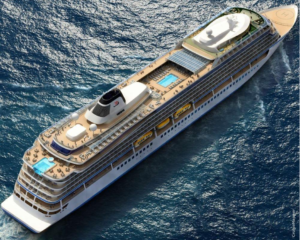 No adventure is complete without a few amenities to make your voyage even more luxurious! The Viking Saturn offers its guests several options when it comes to leisure. Take a dip in the infinity pool for stunning views of your destination, indulge yourself with pampering spa treatments, or stay fit in the state-of-the-art fitness center.
On deck one, the Nordic Spa offers a design steeped in centuries-old Scandinavian sauna tradition and an enchanting Snow Grotto where snowflakes gracefully drift from above through chilled air. This floor also houses the cruise shop, hair salon, and state-of-the-art fitness center.
Theatre enthusiasts can enjoy a theatre or two cinema screens on deck two for their viewing pleasure while medical assistance is available on the bottommost level of our vessel at our medical center.
Rest assured: without any casinos or minors on board, their primary focus is firmly placed on expanding your knowledge and cultivating a richer understanding.
Dining Experience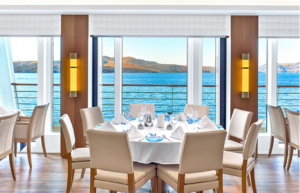 With Viking, your culinary experience is unparalleled – enjoy eight onboard dining options with complimentary beer, wine, and soft drinks for lunch and dinner.
Step into the Restaurant and be transported to a chic Scandinavian setting featuring an ever-changing menu of locally sourced ingredients that guarantee you nothing short of the ultimate onboard dining experience!
Treat your taste buds to an international journey at The Chef's Table and Manfred's Italian Restaurant as you indulge in regional dishes, specialty delicacies, and even afternoon tea.
Offering an abundance of delightful culinary experiences, deck seven will be home to the luxurious Pool Grill, where guests can devour specialized gourmet burgers. If a touch of elegance is desired, The Wintergardenawaits under its Scandinavian canopy with sumptuous afternoon tea and scones.
Itinerary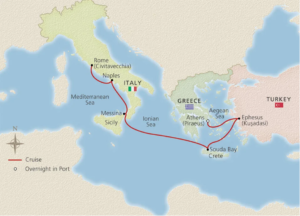 Embark on a captivating 8-day cruise from Rome to Athens and explore the remnants of some of history's greatest empires.
On the first day, you'll depart from Rome, Italy, and sail to Naples, Italy. Spend your day at the sea and explore the ship's amenities before arriving in Naples the following morning.
On the second day, you'll arrive in Naples. Explore the ancient ruins of Pompeii, which was buried in ashes following the eruption of Mount Vesuvius in 79 AD.
On day three, you'll set sail to Messina, Sicily. Explore the narrow cobblestone streets of the old town and take in some of the best views of the Mediterranean.
You'll depart from Messina on day four and set sail to Crete, Greece. Indulge in the luxuries of your exquisite vessel and make it a day to remember.
On day five, you'll arrive in Crete and explore the remnants of the Minoan civilization. Visit Heraklion's city walls and the archaeological sites of Knossos and Gortys.
On day six, you'll cruise to Ephesus in Turkey and explore the ancient ruins of what was once a flourishing city. Take in the iconic Celsus Library and the Temple of Hadrian before you set sail for Athens.
On the seventh day, you'll arrive in Athens and visit the Acropolis of Athens to take in classical architecture and absorb the history of democracy. In the afternoon, explore the bustling Plaka district and shop for souvenirs.
You'll disembark in Athens on day eight and conclude your charming cruise.
Excursions
During your 8-day cruise, you will have the opportunity to explore some of the fascinating destinations around Europe. Here are some of the excursions on offer:
Rome, Italy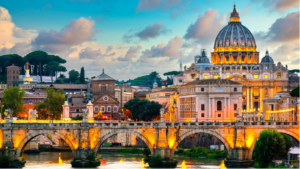 If you want an unforgettable Roman experience, their Rome excursion offers a full-day tour of the Eternal City. Visit iconic sites such as the Colosseum and St. Peter's Basilica, as well as the Spanish Steps and Trevi Fountain.
Naples, Italy
Discover the incredible ruins of Pompeii and learn about its history with one of Viking's Naples excursions. Take in sweeping views of the Mediterranean as you explore the ancient city.
Messina, Sicily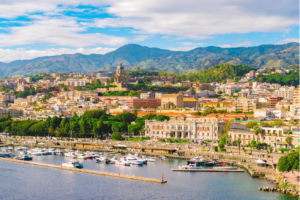 Enjoy a full-day trip to Taormina and Mount Etna from Messina. View the stunning Baroque architecture of Taormina, ride a cable car up Mount Etna, and learn about the history of this captivating region.
Crete, Greece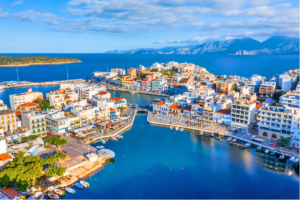 Get a taste of Crete's rich culture on their full-day excursion to Rethymno. Explore the Venetian port and historical monuments of this former Ottoman stronghold, and visit a traditional Cretan village.
Ephesus, Turkey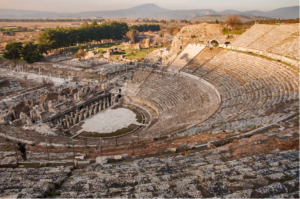 Discover the ruins of Ephesus in their full-day excursion from Kusadasi. Take in iconic sites such as the Celsus Library, the Temple of Hadrian, and the House of the Virgin Mary.
Athens, Greece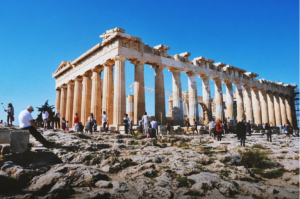 Explore Athens on their full-day excursion. Visit the iconic Acropolis of Athens, and take in the bustling Plaka district with its array of cafes and souvenir shops.
With so many destinations to explore, you're sure to find something for everyone on this 8-day cruise from Rome to Athens. So enjoy an unforgettable journey and make memories to last a lifetime! Bon Voyage!
Bottom Line
This 8-day cruise from Rome to Athens is the perfect way to explore the best of Europe in all its glory. From the ancient ruins of Pompeii to the bustling streets of Athens, this cruise has something for everyone. So, gather your family and friends and embark on an unforgettable journey with Viking Cruises today.
After reading this article, why not book your next holiday with Viking Cruises?
https://simplybusinessclass.com/wp-content/uploads/2022/07/Logo-final-web-SBC.png
0
0
Viktoriya
https://simplybusinessclass.com/wp-content/uploads/2022/07/Logo-final-web-SBC.png
Viktoriya
2023-01-16 12:00:00
2023-01-16 16:14:39
Journey to Antiquities: Explore Lands of Ancient Empires with Viking Ocean Cruises