Royal Experience On Board: British Airways Business Class
When it comes to luxury air travel, few airlines can compare with British Airways. With their renowned attentive service and top-notch amenities, the airline has built a reputation for providing a royal experience on board – one that leaves passengers feeling pampered and spoiled throughout their journey in Business Class.
From being greeted onboard by a friendly cabin crew with genuine smiles to around-the-clock food choices, world-class entertainment options, expedited check-ins, exquisite lounges, and spacious seating arrangements – there is something special about flying in first or business class aboard British Airways.
So what makes British Airways Business Class unique? Let's find out!
British Airways Business Class: Overview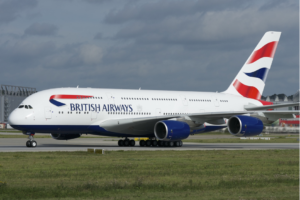 Enjoy the highest level of luxury and comfort while you're at work or leisure with lounge access, dedicated check-in, and fully flat beds on long-haul flights. So whether you're flying short-haul with Club Europe or to any destination in the world with Club World – your journey will be memorable!
Club Europe

With British Airways, you can easily and comfortably navigate both the business world as well as pleasure. Their feature-packed UK and European business class balance efficiency with convenience – perfect for those who want to make it all work harmoniously!
A Lot of Personal Space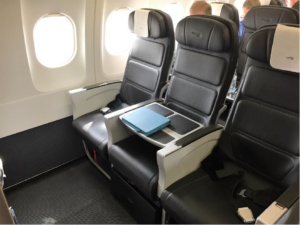 British Airways understands just how important your comfort is while traveling. That's why they have designed the Club Europe cabin so you can always enjoy a private window or aisle seat. Moreover, to ensure maximum personal space for relaxation and working on board, British Airways keeps the middle seat free!
Their leather seats are tailored to provide maximum comfort with a generous seat pitch of 76.2cm (30″) and adjustable headrests for personalized support.
Besides, their contemporary LED lighting adjusts the ambiance throughout your flight, so you can relax in style. At the same time, their experienced cabin crew looks after all your needs onboard.
Amazing Food
At Club Europe, they have an array of scrumptious dishes to choose from, including a complete English breakfast, lunch, classic afternoon tea, and dinner. Their extensive selection also includes hot beverages, cold drinks, and alcoholic choices to go with your meal.
Moreover, their full-service bar also has a great selection of wines, beers, and spirits to help you unwind after a long day.
NB! Before you fly, don't forget to inform the flight attendants of any allergies or dietary needs so that your meal is prepared and ready for when you board.
Elegant Lounges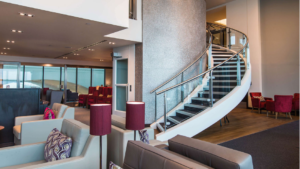 Rejuvenate before your flight at one of their sophisticated departure lounges. British Airways provides a selection of savory meals and beverages and useful business amenities to make working while traveling smoother than ever.
Now available in the First lounge at London Heathrow Terminal 5, British Airways presents its new comfort zone – a collaboration with Restworks.
Within this tranquil environment lies sleep pods that are perfect for recharging and finding serenity during your travels. To add to the blissful experience, Forty Winks relaxation zones will soon arrive in London's Concorde Room!
Flexible Baggage Allowances
If you're planning a short jaunt or an extended stay – Club Europe has got your luggage covered. You can bring two bags on board, one full-sized bag, plus one laptop/handbag for those who prefer to travel light and return the same day.
Moreover, they allow up to two checked baggage items in the hold should you require additional space!
Doorstep Baggage Pick-Up & Check-In
Travel luggage-free and straight to security with their convenient collection service! British Airways' staff can collect your bags from the comfort of your home, securely transport them to the airport for you, and check them in for a stress-free flight. This amazing offer is available at Heathrow Airport, Geneva Airport, or Zurich Airport.
Club World

Club World cabin is designed to deliver a luxurious, personalized experience that will make every journey special. From business trips to leisurely vacations and everything in between, you'll find an extraordinary level of comfort and service – all waiting for you with your name on it!
Extra Space and Luxury Comfort
Step into a world of comfort and convenience with British Airways Club World seats! Whether you're looking to stretch out in your favorite armchair, catch some shut-eye on your bed, enjoy meals at the dining table, or get work done at the office – you can do it all while enjoying plenty of space and privacy.
If you're seeking a moment of tranquility, recline your seat into a fully flat 183cm (6ft) bed that has an adjustable headrest and lumbar support for maximum comfort.
Experience an incomparable flight with The White Company's bedding and amenity kits that are tailored for your restful sleep.
You can drift off into a slumberlike state of bliss using the soft mattress topper, sumptuous duvet, and blanket, which adds unbeatable comfort during your trip.
Club Suite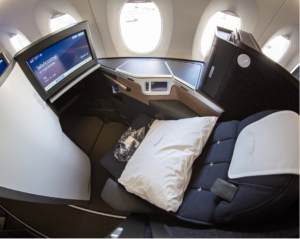 British Airways has recently unveiled their new Club World cabins, featuring the innovative Club Suite. This cabin offers you a private area to rest, work or relax with direct aisle access and your own door for added privacy.
The bed is also larger than before at 198cm (6ft 6in) long. It features luxurious bedding from The White Company and plenty of room to store all your items within easy reach.
Streamline your experience with the cutting-edge technology at Club Suite. Utilize digital seat functions to find an optimal position and access lightning-fast Wi-Fi networks while in the air.
Keep devices fully charged through personal charging points and enjoy high-resolution screens measuring 17″ or larger that are packed with fresh films, music, and more!
Tasty Global Cuisine
Club World passengers can savor a scrumptious meal, including an entrée of their choice accompanied by starters, cheese, and dessert. British Airways' signature afternoon tea will be served onboard for those traveling certain routes.
Additionally, flight attendants provide delicious snacks as well as hot and cold drinks such as wine or spirits to indulge in during the journey.
Club World Sleeper Service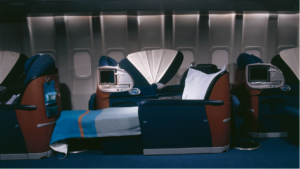 Treat yourself to a restful night in the air with British Airways Club World Sleeper Service, available on certain flights from North America and the Middle East. You'll be welcomed aboard with a bedtime beverage before they turn down the lights and let you slump away into your fully-flat bed for an uninterrupted slumber.
A light morning meal will be served quickly enough to ensure there's time left in your sleep schedule to freshen up once landed – maximizing your comfort while traveling!
Bottom Line
British Airways Business Class is a premier class of service, offering world-class hospitality and luxurious living. With all the amenities designed to meet your needs, you can enjoy an incomparable journey of extra space and privacy while surrounded by unsurpassed comfort.
From high-tech entertainment to outstanding culinary experiences, there's something for everyone. So, the next time you're looking to fly in style and comfort, look no further than British Airways!
https://simplybusinessclass.com/wp-content/uploads/2022/07/Logo-final-web-SBC.png
0
0
Viktoriya
https://simplybusinessclass.com/wp-content/uploads/2022/07/Logo-final-web-SBC.png
Viktoriya
2023-01-19 12:00:41
2023-01-16 16:23:26
Royal Experience On Board: British Airways Business Class