Why Should You Visit Phuket, Thailand?
Are you looking for an adventure of a lifetime? An amazing trip packed with culture, incredible food, and stunning sights? Then look no further than Phuket, Thailand.
This breathtaking tropical paradise is constantly named one of the top travel destinations in the world, and it's easy to see why—with its crystalline ocean waters lapping up against perfect white sand beaches dotted with swaying palm trees and surrounded by lush jungles bursting with wildlife.
And don't forget about all of the wonderful experiences you can have when you visit, from curating your own dream seafood feast at beautiful beachside restaurants to seeing some of the oldest temples on earth or simply relaxing days by enjoying spa treatments or snorkeling around coral reefs!
So what are you waiting for? Your Thai getaway awaits!
About the Location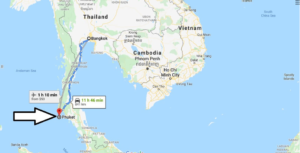 Phuket is the largest island in Thailand, nicknamed the Pearl of the Andaman coast. It is the most versatile resort in the country, and any tourist can find something to their liking. Phuket lies in the Andaman Sea, 862 km from Bangkok.
Phuket is located off the west coast of the kingdom. The island is connected to the mainland by a bridge over which a highway passes. The airport of the island receives both local and international flights. The duration of the flight from Bangkok or Pattaya is about an hour.
Phuket Island is covered with forests – almost 70% of the territory, and only in the west are there comfortable sandy beaches. At the same time, the east has beaches close to natural nature. However, they are poorly cleaned and a little dirty.
Off the east coast of Phuket, many small islands have magnificent beaches. The attraction of Phuket is Cape Brahma (Laem Promthep), located on the southernmost point of Phuket. Known for hosting some of the most spectacular sunsets in the world.
What Are The Most Popular Tourist Attractions in Phuket?
If you're looking for beautiful beaches, rich culture, and plenty of activities, then Phuket is the place to be! Numerous attractions on the island cater to all kinds of travelers.
Here are the most popular:
Big Buddha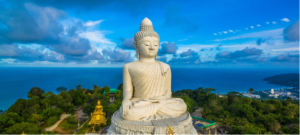 Big Buddha is a huge statue of the Sitting Buddha on the top of the hill, which can be seen from many places on the island. The statue is in a functioning temple, so you must dress appropriately – wear clothes without a neckline and below the knee. In any case, sarongs and capes are given free of charge to tourists at the entrance.
In the temple, you can make a small donation and hang a small metal leaf with a wish or just for good luck. They say wishes come true! On the way to the Sitting Buddha, there are cafes with cool views and a couple of places where you can see elephants, take pictures with them, or ride.
Prompthep Cape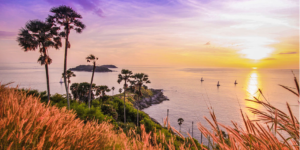 Prompthep Cape is the southernmost point of the island and the best place in Phuket, which is very often seen on postcards. The cape is located on a rocky promontory, from which you can have magnificent ocean views.
At the top of the rock is a viewpoint with benches from where you can watch a beautiful reddish-orange sunset. At the bottom of the rock are several souvenir shops and places to eat.
Wat Chalong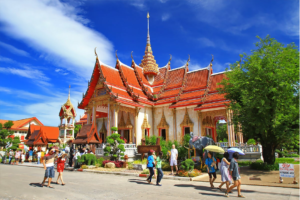 Wat Chalong is a Buddhist temple located in the south of Phuket. It is the largest and most important temple of 78 temples on the island. It is worth visiting for its beautiful architecture, colorful decorations, and of course, the peace and tranquility it provides.
At Wat Chalong, there is a small museum with beautiful sculptures and objects that tell the story of Buddha. You don't even have to be a Buddhist to appreciate this place!
Bangla Road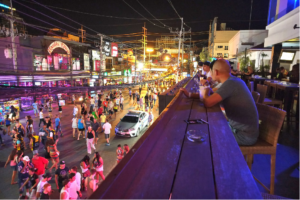 Bangla Road is the main street of Patong, located in the center of the city. It is one of the most visited places in Phuket, full of nightlife. Bars, nightclubs, and souvenir shops surround the street.
At any time of the day on Bangla Road, there is a place to eat. Here, world-famous restaurant chains and small eateries with national cuisine coexist. So, for example, you can dine at McDonald's, have a coffee at Starbucks, or have a glass of draft beer at an Irish pub.
The most popular places to visit here are Amritsr Phuket, which serves delicious Indian cuisine, and K & K Restaurant, to try authentic Thai dishes.
Patong Beach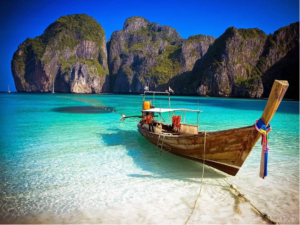 Patong Beach is a well-known beach in Phuket, located along the island's western coast. The beach stretches for about four kilometers and is one of the most touristy places in Phuket.
The beauty is that on Patong Beach, you can find everything – from people sunbathing and swimming to those taking part in various water activities. There are also lots of cafes and souvenir shops along the beach, making it an ideal place for a relaxed stroll.
However, the water may be poorly cleaned and a little dirty due to its popularity. So, avoiding swimming in the ocean and enjoying the sun and sand is best.
Wat Suwan Khiri Khet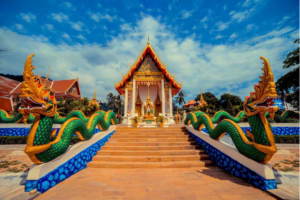 Wat Suwan Khiri Khet is a beautiful temple complex located on the east coast of Phuket. This Buddhist temple is surrounded by a lake and a huge park, where you can find different kinds of animals, such as lizards, monkeys, and birds.
The temple complex is full of colorful decorations and sculptures. Here you can find the statue of Kuan Yin, the goddess of mercy and compassion, as well as a beautiful pagoda, a Bodhi tree, and other Buddhist monuments.
The temple is open to visitors every day from 8 am until 4 pm. In addition, twice weekly at night, a market opens on the territory of Suvan Khiri Ket, which is no less interesting to visit than regular excursions in Phuket.
Bottom Line
Phuket is an exciting and vibrant island in Thailand where you can find something interesting to do for every taste. From visiting temples and watching beautiful sunsets to exploring the nightlife and tasting delicious food.
The island has something for everyone, and a few days here is enough to ensure you have an unforgettable experience. So, grab your friends and book a ticket to Phuket – it will be worth it!
https://simplybusinessclass.com/wp-content/uploads/2022/07/Logo-final-web-SBC.png
0
0
Viktoriya
https://simplybusinessclass.com/wp-content/uploads/2022/07/Logo-final-web-SBC.png
Viktoriya
2023-01-23 12:00:01
2023-01-16 16:31:11
Why Should You Visit Phuket, Thailand?