Why Should You Visit Zermatt, Swiss Alps?
Zermatt, Switzerland, is an excellent ski resort for those looking for quality slopes and developed infrastructure. Every year, people who love the outdoors flock here to ski on steep mountain trails, eat delicious Swiss food and take in the stunning views of the Alps.
This is where athleticism and nature come together to create a unique experience that can only be understood by people visiting countless mountains.
What is good about Zermatt, and why should you visit this resort this winter?
About the Location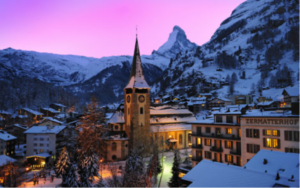 Zermatt is a village located in the southern territories of the canton of Valais in Switzerland, located almost on the border with Italy. It is a small community of 242 sq. km with a population of only 5865 people.
Surrounded by the 4,000-meter-high Pennine Alps, the village lies on the northern slope of the Monte Rosa mountain range near the famous Matterhorn.
You can find the highest peak in Switzerland, called Peak Dufour, at 4634 meters in the Monte Rosa chain. In total, there are 38 peaks in the Zermatt area. The village itself is located slightly over 1600 meters above sea level.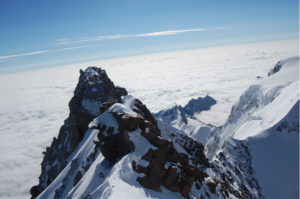 Zermatt's unique location has made it one of the most prestigious resorts in Switzerland, where tourists from all over the world come to ski and snowboard. This recognition is evident through Zermatt being named the best ski resort in the world by various rating companies, including "Best of the Alps."
Zermatt is the perfect vacation destination, as it has many hotels, apartments, and chalets to choose from. There are also many great cafes and restaurants in the village that offer Alpine cuisine at its finest.
Zermatt becomes an elegant and cozy town during Catholic Christmas and New Year, creating a special atmosphere throughout the community.
Ski Infrastructure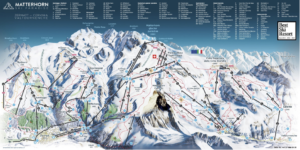 Zermatt, a ski resort in Switzerland, has several advantages over other comparable sites. For example, here, you will find the longest routes with a total length of 310 km. In addition, the resort boasts cozy ski lifts climbing to various heights (from 1600 to 3800 meters) and is open year-round for visitors.
The local mountain slopes at this resort in Switzerland are quite high and steep, so you will need to be physically and technically prepared if you want to overcome them.
If you're a beginner, don't expect to find any suitable trails in Zermatt. However, skiing veterans will have plenty of options according to their skill level.
What Are the Most Popular Attractions in Zermatt?
After conquering the steep ski slopes in Zermatt, it's time to study its map and get acquainted with the remarkable corners. In addition, there are many cultural and natural attractions in the village.
Mount Matterhorn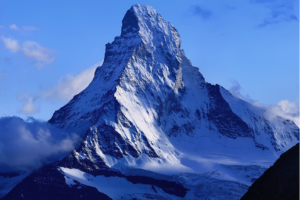 Zermatt's most well-known mountain, towering 4478 meters tall, has long been the village's trademark. The Matterhorn is visible from anywhere in Zermatt, and its appearance changes depending on the time of day. Travelers who have been here noted its greatness, harsh beauty, and incredible views at sunset.
Railway Gornergrat Gornergrat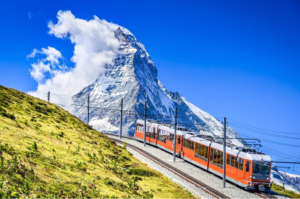 The mountain railway that debuted in the late 1800s is the second highest in all of Switzerland. Its final destination, which it reaches by traveling through picturesque mountains every day, is known as Gornergrat Plateau and sits at an impressive 3100 meters above sea level.
If you take a 40-minute train ride in Zermatt, you will get five scenic stops that allow tourists to explore and take pictures. If desired, people can also get off at any stops for short walks before continuing their journey.
Matterhorn Glacier Paradise Lookout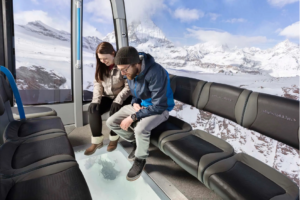 The observation deck, located at an altitude of 3883 meters, offers unforgettable views of the Alpine mountains. The ascent here takes place in several stages: your path will begin with a ride on a small funicular, which will quickly take you to the highest mountain lift in Switzerland.
Then, slowly, you will climb into the tunnel along the rock and find yourself at the Matterhorn Glacier Paradise complex. Here you have the opportunity to visit a small cinema, look into an ice cave, drink coffee in a cozy local cafe and, in fact, climb to the observation deck.
Gorner Gorge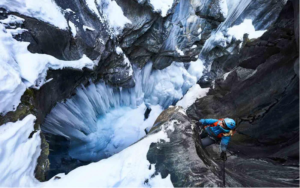 The ancient Gorner Gorge, a 15-minute walk south of the resort, was formed as a result of the thousand-year desire of the river to break through the rocks. Before the traveler's gaze follows the mountain route, bright landscapes and picturesque waterfalls open up. Hiking along the numerous wooden steps and paths through the rocks is quite laborious, so when going on this excursion, prepare special shoes and gain strength.
Matterhorn Museum — Zermatlantis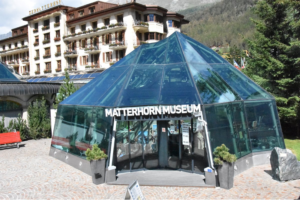 Matterhorn Museum is a must-visit for tourists. It is the largest museum in Zermatt and holds an extensive collection of artifacts, photos, and written records from the region's past.
Visitors can learn about the history of Matterhorn Mountain, its geology, glaciers, animals and plants that inhabit this beautiful area. In addition to educational displays on the mountain's history, the museum also has several interactive activities, including a virtual tour of the mountain and experiences with local guides.
What Are the Top Restaurants and Bars in Zermatt?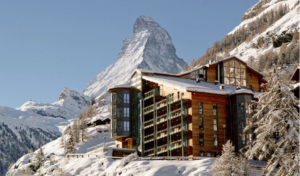 After a long, busy day in Zermatt, all the tourists will surely be glad to get together in some of the cozy restaurants and bars. This resort has several great options for food and entertainment.
The Omnia Mountain dining room is an excellent restaurant not only for lovers of Alpine cuisine but also for fans of contemporary dishes. Another great choice is the restaurant at Matterhorn Glacier Paradise. Here you can try traditional Swiss dishes, including cheese fondue and raclette, as well as enjoy city's panoramic view  from the windows.
And for more casual fun with friends, we recommend going to two bars in Zermatt – Hexenbar and Chez Vrony. The first has a long history, as it is located in the same place since 1989, and today offers live music and interesting entertainment. And in Chez Vrony, you can find more than 200 types of local beers and wines while admiring the breathtaking view of Mount Matterhorn.
Bottom Line
In conclusion, visiting Zermatt is sure to be an unforgettable experience for every traveler. This small village has so much to offer: magnificent views of the Alps, interesting excursions, delicious food, and great bars. Here you can forget about everyday worries and problems. So don't wait any longer – plan your trip and explore the Swiss Alps!
https://simplybusinessclass.com/wp-content/uploads/2022/07/Logo-final-web-SBC.png
0
0
Viktoriya
https://simplybusinessclass.com/wp-content/uploads/2022/07/Logo-final-web-SBC.png
Viktoriya
2022-12-12 12:00:26
2022-12-04 15:26:40
Why Should You Visit Zermatt, Swiss Alps?