Why Should You Visit Lapland, Finland, This Winter?
Are you tired of the same old tourist traps? Looking for a place to go that is off the beaten path? If so, then you should definitely consider visiting Lapland, Finland.
This unique and breathtaking region is home to some of the most amazing scenery in the world and is a perfect destination for those who are looking for a real winter adventure.
Want to discover why you should add Lapland, Finland, to your winter bucket list? Read this blog post and start planning your unforgettable trip today!
About the Location
Lapland, Finland, is located in the far northernmost region of the country and is renowned for its stunningly beautiful landscapes, including vast snow-covered tundras, deep forests, and rolling hills.
The total area of ​​Lapland is 400 thousand km2, and it is washed by the Arctic Ocean and is located on the territory of four states: Finland, Norway, Sweden, and the western part of the Murmansk region of Russia.
This remote from civilization, almost fabulous country is inhabited by Laplanders, or Saami, numbering about 60 thousand people, more than half of whom speak an ancient language inherited from distant ancestors.
Main Reasons to Visit Lapland
So why should you visit Lapland, Finland this winter? Here are a few of the amazing things you can experience during your time here:
1. Experience the Northern Lights
The northern lights are an awe-inspiring natural phenomenon, and seeing them in person is an experience that you won't soon forget. Lapland is one of the greatest places in the world to witness this celestial spectacle, and with a bit of luck, you can catch a glimpse.
Watching the northern lights is a must-do experience when visiting Lapland. The best time to see this beautiful phenomenon is during the winter months, as the longer nights provide more opportunities for clear viewing.
The lights are visible almost every other clear night in northern Lapland between September and March, while in southern Finland, they can only be seen about 10-20 nights a year.
You can visit Arktikum, a science and culture center in Rovaniemi, which will provide you with additional information on the northern lights as well as advice on where to go for the best viewing spots.
2. Go on a Reindeer Safari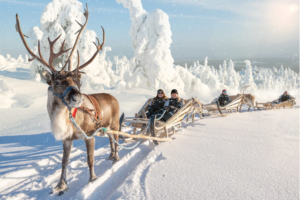 The reindeer is an integral part of the Lapland culture, and what better way to get close to them than by going on a reindeer safari? You can join one of the many organized excursions or even rent a reindeer-drawn sleigh and explore the area at your own pace.
Reindeer safaris are an amazing way to experience the wilderness of Lapland. You can explore breathtaking landscapes and get up close with these majestic animals while learning about their culture and ancient traditions.
3. Climb High into the Mountains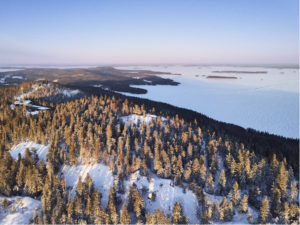 The mountains of Lapland are ideal for hiking and climbing in the summer months and skiing and snowshoeing in the winter. There are dozens of trails that offer stunning views and provide you a chance to connect with nature.
The Koli National Park is one of the most popular areas for hiking and climbing. It is home to five distinct peaks, each with its own unique characteristics.
For a more challenging climb, head up the Ukko-Koli hill, which stands at 346 meters and offers a stunning panoramic view of the surrounding landscape.
4. Enjoy the Snowy Landscapes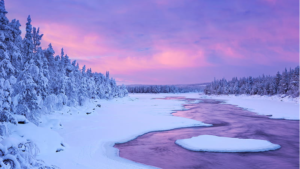 Lapland is a stunningly beautiful landscape, and during winter, it is transformed into a winter wonderland filled with snow-covered forests, frozen rivers and lakes, and majestic mountains.
If you're looking for a truly unique winter experience, then there's no better place to be than Lapland. Whether you're on a skiing holiday, snowshoeing, snowmobiling, or just taking in the breathtaking views from your hotel balcony, you'll be sure to have an unforgettable time.
5. Meet Santa Claus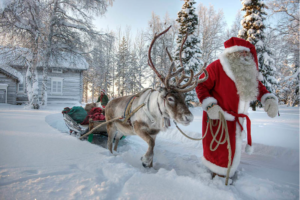 Yes, you read that right – you can actually meet the real-life Santa Claus in Lapland! The town of Rovaniemi is the Santa's official hometown and you can even visit his office there.
You can even have a personal meeting with the jolly old man himself and take pictures if you're lucky enough.
The Santa Claus Village is open all year round, and it's a great place for kids (and adults) to explore and experience the magic of Christmas.
6. Don't Forget to Warm Up in the Traditional Finnish Sauna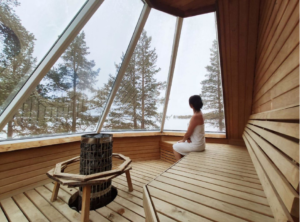 What better way to end your busy day than in a traditional Finnish sauna? It is an experience that you can't miss while visiting Lapland. The hot steam and relaxing vibes of a real Finnish sauna will stay with you for a long time.
The temperatures range from 80 to 100 degrees Celsius, and you can choose to cool off in the snow or a refreshing lake afterward.
Many spas and resorts around Lapland offer a sauna experience, and some even offer outdoor hot tubs or wood-fired smoke saunas. So be sure to make time for some relaxation while in Lapland!
7. Enjoy Traditional Food and Culture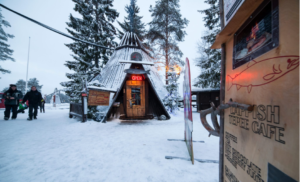 The culture of Lapland is unique and fascinating, with a distinct mix of traditional Scandinavian and indigenous Sami influences.
When visiting Lapland, try some local specialties such as reindeer, cloudberries, and lingonberries, all of which are available in restaurants or even at Santa's office. You can also get a taste of Lapland's culture and traditions by attending some of the many festivals that take place here throughout the year.
For example, you can visit Santa's Salmon Place to taste one of the best salmon steaks in your life. Besides, you can check Restaurant Aanaar, where they serve traditional Finnish dishes such as salmon soup and bear stew.
Or, you can eat at Laanilan kievari, a traditional Lapland restaurant nestled in the countryside, where you'll find excellent game dishes and delicious local specialties.
Bottom Line
You should visit Lapland for many reasons – from its stunning winter landscapes to its unique culture and traditions. So whether you're looking for a magical winter getaway or an unforgettable family vacation, Lapland is the perfect destination.
So what are you waiting for? Pack your bags and head to Lapland! You won't regret it.
https://simplybusinessclass.com/wp-content/uploads/2022/07/Logo-final-web-SBC.png
0
0
Viktoriya
https://simplybusinessclass.com/wp-content/uploads/2022/07/Logo-final-web-SBC.png
Viktoriya
2022-12-08 12:00:00
2022-12-04 15:26:07
Why Should You Visit Lapland, Finland, This Winter?