Seabourn Cruises: An Ultimate Experience on 7-Day Caribbean Spice Islands
If you're looking for the ultimate cruising experience, look no further than Seabourn. Their 7-day Caribbean Spice Islands cruise is the perfect way to explore some of the world's most beautiful and exotic destinations.
From the crystal-clear waters of Barbados to the lush rainforests of St. Lucia, you'll be able to see it all on this amazing cruise. Don't you believe us? Read this article and find out why you should book your spot today!
About the Ship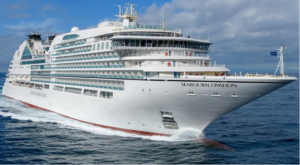 The MV Seabourn Ovation is a cruise ship owned and operated by Seabourn Cruise Line. Launched in 2018, it is one of the world's most spacious and luxurious ships. The ship offers an impressive array of amenities and activities to keep passengers entertained as they journey around the globe.
The MV Seabourn Ovation cruise ship is lengthy, measuring a whopping 210m and accommodating 638 passengers in 266 staterooms. The vessel has many similar characteristics to its sister ship, the MV Seabourn Encore, but with the addition of some upgraded features.
With a total of 12 decks and 330 crew members, the ship offers a wealth of entertainment and dining options. On board, guests can take advantage of the two pools, seven whirlpools on different decks, and the outdoor deck spaces where they can relax in luxurious loungers.
Accommodation On Board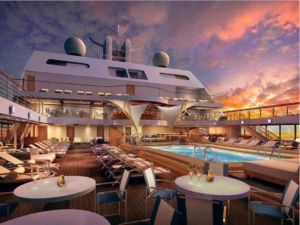 The MV Seabourn Ovation offers a variety of accommodation options for guests, ranging from ocean-view staterooms to penthouse suites. All staterooms have been designed to reflect the ship's sophisticated style and offer guests a luxurious level of comfort with modern amenities and facilities.
You can choose between the Veranda Suite, the Penthouse Suite, and the Owner's Suite and Above. Each suite has many features, such as double sinks in the bathroom, spacious living areas, and a private veranda or balcony with seating.
Veranda Suite

Each Veranda Suite comes with a full-length window and door to access your private veranda. The suite also includes a comfortable living area, dining table for two, queen-size bed, walk-in closet, flat-screen television, fully stocked bar and refrigerator, and spacious bathroom with separate tub and shower.
Penthouse Suites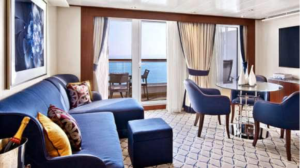 Penthouse Suites feature a dining table for two to four people and a separate bedroom. The suite has a glass door leading to the veranda, two flat-screen TVs, and a fully stocked bar. The spacious bathroom includes a tub, shower, and large vanity area.
Owners' Suites and Above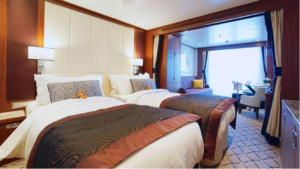 The Owners' Suites and Above on board feature a private veranda, comfortable living area, and queen-size bed. The suites also come with a walk-in closet with a personal safe, an interactive flat-screen TV with music and movies, a fully stocked bar and refrigerator, a spacious bathroom, a separate tub shower, slippers, and a hair dryer.
Dining Options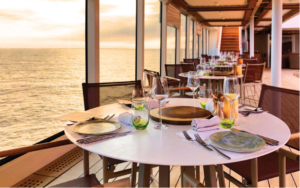 The MV Seabourn Ovation offers guests a wide selection of dining options featuring both traditional and innovative cuisines worldwide. Guests can choose from various restaurants, including Patio, The Grill, Sky Bar, The Colonnade, and more.
The Patio is a great spot for breakfast and lunch with outdoor seating. The Grill is an outdoor restaurant serving up classic American dishes such as steak, burgers, and ribs. Sky Bar offers delicious cocktails and light fare under the stars. The Colonnade is an informal buffet-style restaurant serving breakfast, lunch, and dinner.
Don't miss visiting the Observation bar that serves delightful cocktails and tasty snacks with a beautiful ocean view.
Amenities and Activities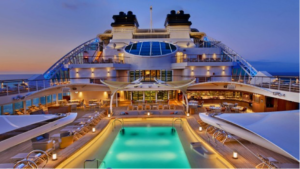 The MV Seabourn Ovation offers plenty of onboard activities and amenities, from sports to spa treatments. Guests can take part in golf or tennis lessons, use the gym and fitness center, and enjoy a range of spa treatments.
The ship also provides entertainment such as live music, theatre shows, movies, and more. There's also a range of educational activities available on board, such as lectures and cooking classes. Guests who wish to relax can head to the library or the onboard casino for some fun.
One of the most popular amenities is the "Caviar in the Surf" beach barbecue. Guests can enjoy a delicious beachside meal of local dishes, with champagne and caviar, and soak up the sun on a white-sandy beach.
Itinerary
The MV Seabourn Ovation Caribbean Spice Islands 7-day itinerary takes guests to some of the best destinations in the region. The ship departs from Bridgetown, Barbados, to explore vibrant cities and picturesque islands.
The first port of call is Rodney Bay, Saint Lucia, where guests can tour the historic Pigeon Island or explore the lush rainforest.
The next stop brings you to Roseau, Dominica, where you'll have time to discover the beauty of the Caribbean Sea. Guests can explore Dominica's vibrant culture, participate in various water sports or relax on secluded beaches.
You'll also have a chance to experience the lively culture and beaches of Point-A-Pitre, Guadeloupe and Carambola Beach, Saint Kitts and Nevis.
On the 6th day, the ship will take you to Trois Ilets, Martinique. Here guests can explore Fort-de-France, the capital of Martinique, and snorkel at Diamond Rock.
Finally, the last port of call is Saint Georges, Grenada, where you can explore the island's stunning waterfalls and lush vegetation.
Excursions
The Seabourn Ovation offers guests a range of shore excursions to make the most of their time in port.
Bridgetown, Barbados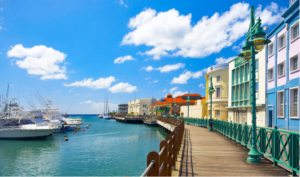 You can explore Barbados' rich history and culture with a guided tour of Bridgetown, the island's capital. Visit the National Museum, Parliament Buildings, and the National Heroes Square and learn about the island's history. Or take a Catamaran cruise and enjoy some of the Caribbean's most stunning beaches.
Rodney Bay, Saint Lucia
Sail to La Soufriere, the world's only drive-in volcano in Saint Lucia, and explore its bubbling sulfur springs and bubbling mud pools. Or take a tour of the Emerald Pool, a natural oasis surrounded by lush vegetation and waterfalls.
Roseau, Dominica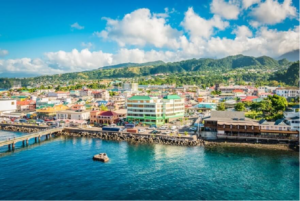 Explore the rainforest and waterfalls of Trafalgar Falls in Dominica with a guided tour. Or take part in a marine life adventure and snorkel with the beautiful sea life.
Point-A-Pitre, Guadeloupe
Take a tour of the picturesque island of La Desirade and discover its stunning scenery, colorful markets, and lagoons. Or go on a beach tour to Anse du Souffleur, a beautiful sandy beach with crystal-clear waters.
Carambola Beach, Saint Kitts and Nevis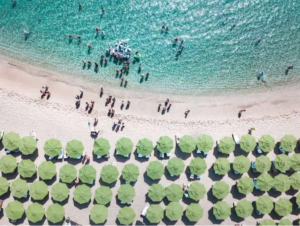 Take a tour of St. Kitts' lush rainforest and explore its tropical wildlife. Or sail to the beautiful Carambola Beach and soak up the sun in its crystal-clear waters.
Trois Ilets, Martinique
Visit Fort-de-France, Martinique's capital, and explore its vibrant culture. Or take a tour of the stunning Diamond Rock, an uninhabited island, and snorkel in its crystal-clear waters.
Saint Georges, Grenada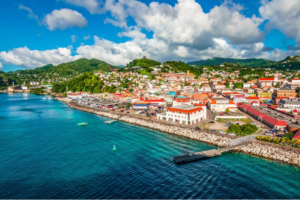 Explore the lush rainforest and waterfalls of Grand Etang National Park. Or sail to the picturesque Levera Beach and relax in its tranquil waters.
Final Thoughts
A cruise on the Seabourn Ovation is a perfect way to experience the Caribbean islands. With its range of amenities, exciting activities, and an array of shore excursions, it offers the perfect blend of relaxation and adventure. So why not take a cruise to Bridgetown, Barbados, for an unforgettable Caribbean getaway?
Book your trip to the Caribbean today and explore its vibrant culture, stunning beaches, and lush rainforests.
https://simplybusinessclass.com/wp-content/uploads/2022/07/Logo-final-web-SBC.png
0
0
Viktoriya
https://simplybusinessclass.com/wp-content/uploads/2022/07/Logo-final-web-SBC.png
Viktoriya
2022-12-19 12:00:30
2022-12-04 15:27:48
Seabourn Cruises: An Ultimate Experience on 7-Day Caribbean Spice Islands