Your Journey, Your Way: Japan Airlines First Class Creates Memories
Get ready to be treated like royalty as you embark on a journey with Japan Airlines First Class. The experience will blow your mind and leave you wanting more. They've thought of everything, from the plush amenities to the mouthwatering food that will make your taste buds dance with delight. It's all about indulging your senses and giving you an unforgettable travel experience.
Let's take a deeper dive into the world of luxury travel with Japan Airlines First Class, where they take elegance and comfort to new heights. Get comfy, buckle up, and get ready for a one-of-a-kind adventure!
Flying Extravagance: Japan Airlines First Class Sets New Standards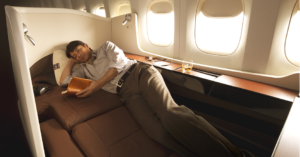 Get ready to enter a whole new world of flying – where ordinary takes a backseat, and extravagance reigns supreme. Japan Airlines First Class is the epitome of luxury, taking your travel experience to heights you've never imagined.
So buckle up (or rather loosen up) and get ready for a journey that will redefine how high-rolling travelers soar through the skies—prepare yourself for sheer opulence at its finest!
Airport and Lounge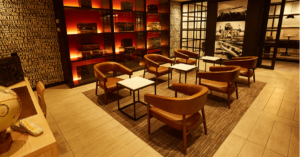 As soon as you step foot in the airport, Japan Airlines First Class treats you like royalty. Say goodbye to long queues and hello to a dedicated check-in counter meant just for privileged passengers like yourself. The staff gives you personalized attention, ensuring your journey starts off stress-free.
But their exceptional service doesn't stop there! They also take special care of your luggage. Thanks to priority baggage service, your bags are treated like VIPs – handled efficiently and given top priority when it comes to delivery upon arrival. No more waiting around at the dreaded baggage claim carousel!
And let's not forget about the exclusive lounges available only to First Class passengers. These luxurious havens offer a slice of heaven before you even board your flight. Picture an oasis of tranquility where comfort, privacy, and relaxation reign supreme. It's an indulgent experience that sets the tone for the lavish journey ahead.
Comfortable JAL Suites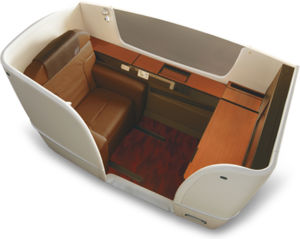 Get ready for an absolute treat in the JAL Suite! This oasis of calm is exclusively reserved for Japan Airlines' First Class passengers, so you know you're in for something truly special. As soon as you step into the JAL Suite, get ready to be blown away by its elegant interior. With its beautiful woodgrain furnishings, it feels like stepping into your own personal home library – cozy and inviting.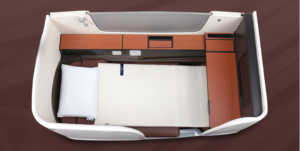 Now let's talk about those magnificent seats. Not only are they visually stunning, but they have also been crafted with your comfort in mind. These seats go above and beyond with features like Airweave DUAL MODE and airweave pillow S-LINE that offer fantastic support for your waist and ensure you maintain the perfect lying posture.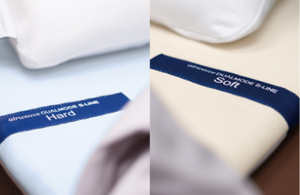 Speaking of entertainment, get ready to be blown away by the expanded personal screen – a whopping 23 inches! It's like having your own private theater where you can lose yourself in thrilling movies or immerse yourself in soul-stirring music. This high-definition display takes visual pleasure to a whole new dimension.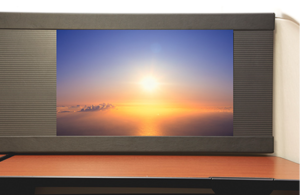 Privacy is key when flying first class, and Japan Airlines totally gets it. They've nailed it with the retractable privacy partition inside each JAL Suite. With just a simple touch, create your very own secluded sanctuary where you can unwind without any disruptions or focus on work without any pesky distractions getting in the way.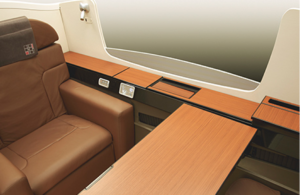 And let's not forget about storage – because style and functionality go hand in hand here. The JAL Suite has ample compartments so you can stay organized and have everything within easy reach during your journey. It's all about enjoying unmatched comfort and tranquility as you soar through the skies.
Exclusive Dining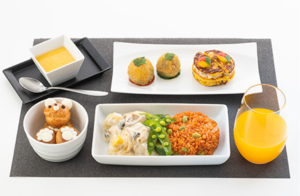 Picture this: you're on a flight, soaring through the clouds, and suddenly you find yourself indulging in a culinary adventure like no other. Welcome to BEDD, the swankiest restaurant in the sky brought to you by Japan Airlines.
BEDD is more than just an acronym for "Beyond Excellent Dining Delights" – it's an invitation to experience a world of carefully curated dishes that will transport your taste buds to new heights. Imagine expert chefs whipping up delectable meals using only top-notch ingredients, creating flavor symphonies that will leave you speechless.
But here's the best part: when you step into BEDD onboard Japan Airlines, all your worries float away. No interruptions or disturbances – just pure dining bliss wrapped in dream-like comfort. Sit back, relax, and let our attentive service cater to your every need.
And as if that wasn't enough foodie goodness packed into one flight experience, they also team up with renowned chefs from around the globe for special limited-time menus. So each journey becomes a unique opportunity for epicurean delights from different corners of the world.
Inflight Entertainment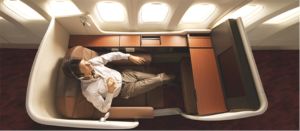 Let us tell you about the MAGIC (Mitsubishi Advanced Graphic Interactive Control System) inflight entertainment system. Imagine this: your very own personal screen right in front of you, ready to serve up a variety of programs at any time. From the latest blockbuster movies fresh from theaters to an impressive collection of games for some light-hearted fun – it's all at your fingertips.
Controlling your inflight entertainment experience is as easy as pie with the LCD touch-panel equipped controller that comes with each seat. You can effortlessly navigate through menus, select your desired programs, and even adjust the volume level – all with a few simple touches! The interface is so user-friendly that anyone can master it in no time.
But wait, there's more! To provide an exceptional audio experience, Japan Airlines hooks you up with Bose Quiet Comfort 25 noise-canceling headphones. Slip these babies on and watch as the world around you fades away while getting lost in immersive sound quality. It's like having your private cinema wherever you go!
Amenities & Others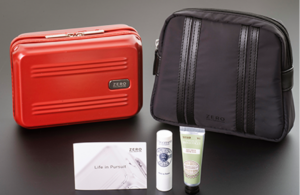 Japan Airlines has teamed up with ZERO HALLIBURTON to create amenity kits that are a cut above the rest. These kits are stuffed with top-notch products that cater to your personal needs – we're talking SHISEIDO skincare sets like clé de peau BEAUTÉ and SHISEIDO MEN. Fancy!
But wait, there's more. To take your comfort levels even higher, Japan Airlines offers these super cozy outfits for you to wear during the flight. Can you believe they're made from 100% organic cotton? Not only is it soft and comfy on your skin, but it's also great for the environment and your health.
And here's where things get cool – these outfits were designed by "nendo," a famous Japanese brand known for its sleek and minimalist style. You can spot them by looking out for the Tsurumaru JAL logo in a cute origami motif on the red tag of the outerwear.
Just so you know, this organic cotton used is actually certified under Global Organic Textile Standards (GOTS), which means it's legit sustainable stuff. So not only will you feel good wearing it, but you'll also be doing something good for Mother Earth.
Bottom Line
When it comes to luxury travel, Japan Airlines First Class takes the crown. Seriously, from the second you enter their lavish cabin, you're swept away into a realm of pure extravagance and top-notch service. We're talking gourmet meals created by world-famous chefs, state-of-the-art entertainment through their MAGIC system and amenities that are so well-thought-out, you'll wonder if they've read your mind.
Japan Airlines doesn't mess around when it comes to delivering an unforgettable First Class experience. They go above and beyond in every aspect to make sure your journey is nothing short of extraordinary. Flying has never felt this fancy or left such a lasting impression than with Japan Airlines. Trust us – prepare for a ride that will blow your mind and
https://simplybusinessclass.com/wp-content/uploads/2022/07/Logo-final-web-SBC.png
0
0
Viktoriya
https://simplybusinessclass.com/wp-content/uploads/2022/07/Logo-final-web-SBC.png
Viktoriya
2023-09-14 12:07:28
2023-09-14 12:07:28
Your Journey, Your Way: Japan Airlines First Class Creates Memories