Why Should You Visit Kefalonia, Greece?
Welcome to the beautiful island of Kefalonia, a real hidden gem tucked away in the stunning turquoise waters of Greece. Get ready for some serious eye candy because this place is absolutely jaw-dropping.
If you're all about chilling on sun-soaked shores with a cocktail in hand, Kefalonia has got your back. And if you're craving adventure and want to get lost in nature, this place will blow your mind.
Seriously though, Kefalonia is one of those rare destinations that just leaves a profound impact on you. The vibrant beauty here is something else entirely – it hits you deep down and stays with you long after you've left.
So get ready to dive headfirst into the wonders of this island as we uncover its secret spots and give you all the reasons why it should be at the tippy-top of your travel bucket list.
About the Location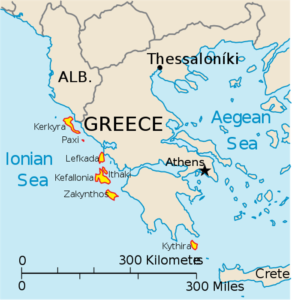 Picture this: a dreamy island located in the Ionian Sea, just off the coast of Greece. We're talking about Kefalonia. This place has killer weather all year round. Summers are blazing hot, with temperatures hitting 25 to 35 degrees Celsius (77 to 95 degrees Fahrenheit), while winters are still mild, hovering above 10 degrees Celsius (50 degrees Fahrenheit).
But wait, there's more! Kefalonia isn't just some boring slab of land; it's got character and variety that will blow your mind. From quaint fishing villages that look like they've been plucked from a postcard to peaceful olive groves and majestic mountains – you name it, Kefalonia delivers.
And let's not forget what makes everyone swoon over this place: the beaches. Imagine turquoise waters so clear you can see every little fish swimming around, paired with golden sandy beaches. Whether you're into chilling alone on secluded spots like Myrtos Beach or prefer bustling beach bars where you can sip cocktails and hop on water sports at Makris Gialos Beach – Kefalonia truly is paradise found.
8 Places To Visit in Kefalonia
If you're planning a trip to this enchanting island, be sure to explore its hidden treasures by visiting these eight must-see places.
1. Myrtos Beach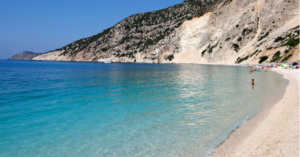 The first place to visit is Myrtos Beach – it's an absolute slice of heaven! Picture this: clear blue waters just begging for a swim and these massive limestone cliffs adding some serious drama to the whole scene.
You've got plenty to do here too. Just laze around on that soft sand, take a dip in the crystal-clear water, or simply stroll along the shoreline without a care in the world.
And when evening sets in, Myrtos Beach turns into this ultra-romantic spot perfect for a leisurely walk with your bae or even having a peaceful picnic against that gorgeous sunset backdrop.
2. Melissani Cave and Lake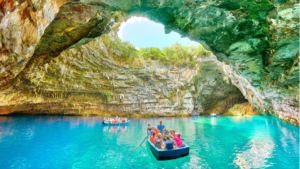 Ready to discover the island's secret treasures? Then you have to check out the mind-blowing Melissani Cave! An underground lake is glistening with hues of blue and green that look straight out of a fairy tale. Don't just stand there in awe; hop on a guided boat tour and glide across those crystal-clear waters.
The guides at Melissani Cave don't just steer the boats; they also spin tales about its history and throw in some mythical nymph folklore involving a lady named Melissani.
Visiting this place is not your ordinary tourist experience – it's something extraordinary that taps into Kefalonia's geological wonders and mythological richness!
3. Assos Village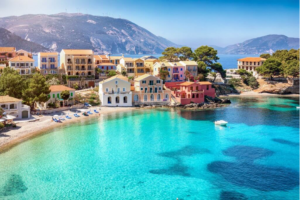 This charming little village is like something out of a fairytale. As you stroll through the narrow streets, take in the sights and sounds around you. Cobblestones under your feet, colorful flowers adorning every corner, and traditional houses that make you feel like you've stepped back in time.
Up on the hill stands a majestic 16th-century Venetian castle as if watching over the village. Climb up to its top for panoramic views that will truly blow your mind.
Now let me tell you about the best part – food! Imagine yourself at one of those waterfront tavernas, sipping on local wine or ouzo while enjoying mouthwatering local delicacies. Fresh seafood galore! And all this while gazing out at the calmness of the bay…Can life get any better?
4. Drogarati Cave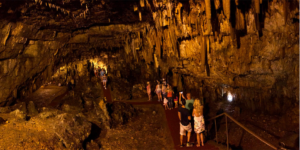 Absolutely you have to check out Drogarati Cave on the island! It's a natural wonder with mind-blowing acoustics. Stalactites and stalagmites that have been slowly forming for millions of years will be all around you, creating this jaw-dropping sight.
The main chamber is massive and has this ethereal vibe that makes it freakin' perfect for concerts. Can you imagine listening to some live music surrounded by these incredible formations? It's truly an experience like no other.
As you wander through the cave, following well-lit paths, take a moment to soak in the details of those intricate formations. They're seriously impressive. And don't worry about missing any cool facts or stories because the guides are there to spill all the juicy details about its geological history and cultural importance.
5. Fiskardo Village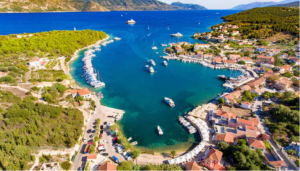 If you want to experience the epitome of elegance and vibrance in a Greek village, head straight to Fiskardo up north. This place is famous for its well-preserved Venetian architecture that takes you back in time.
Take a leisurely walk along the waterfront, soaking in the picturesque views while passing by cute boutiques, tempting restaurants, and cozy cafés. The vibrant colors of the buildings against the lush greenery will leave you awestruck!
And if you're up for an adventure, hit those scenic walking trails that unveil hidden coves and breathtaking viewpoints; it's like discovering another dimension of natural beauty on this island.
6. Mount Ainos National Park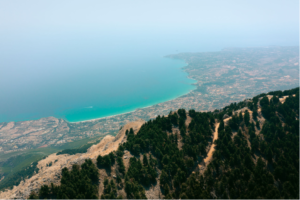 If you're seeking a slice of paradise, look no further than Mount Ainos National Park. This place is a haven for outdoor enthusiasts like us.
Imagine hiking through lush forests filled with Kefalonian fir trees. But wait, it gets better! As you make your way up to the summit of Mount Ainos (the highest peak on the island), get ready for some seriously breathtaking views. Picture panoramic vistas that stretch out across Kefalonia and beyond.
Oh, and let's not forget about our feathery friends in the park. Birdwatching enthusiasts will feel right at home here too. You never know what kind of avian beauties you might spot during your visit.
7. Lassi Beaches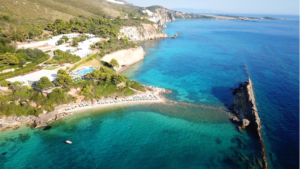 This place is like paradise on Earth! You've got options galore when it comes to sandy stretches. Take Makris Gialos Beach, for example. Its golden sands and lively vibes will have you feeling like you're in the heart of summer. Or, if you prefer some peace and tranquility, Platis Gialos Beach is your go-to spot.
And let me tell you, there's so much more to do than just lounging around and soaking up the sun (although that sounds pretty amazing too). Get your adrenaline pumping with water sports like snorkeling or jet skiing – it'll add an extra splash of excitement to your beach vacation!
8. Robola Wine Region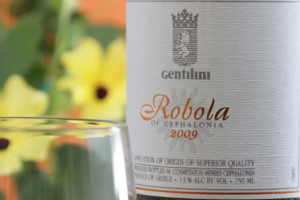 If you're a wine lover, then Kefalonia is the place to be! Get ready to have your taste buds dancing with joy as you explore the famous Robola Wine Region. This region is renowned for its special grape variety called Robola.
Join guided tours where they spill all the secrets about how these delicious wines are made. You'll learn about the unique characteristics that make Robola wines so special.
But here's the real treat – tasting those heavenly vintages yourself! From refreshing crisp whites to bold and powerful reds, there's something for everyone. And as if sipping on amazing wine isn't enough, imagine doing it.
Bottom Line
Koroni Beach in Kefalonia is like stepping into paradise! This place is a total untouched beauty with its crystal-clear waters, calm vibes, and mind-blowing rock formations. If you're looking for some inner peace and tranquility, this is THE spot to be.
You can just plop down on the soft sand and soak up those good beach vibes or get adventurous and explore the secret coves tucked away along the coastline. And if you're feeling extra sporty, there are water sports available too! Whatever floats your boat (literally).
So don't even think about missing out on this hidden gem during your trip to beautiful Kefalonia. These memories will stay with you forever!
https://simplybusinessclass.com/wp-content/uploads/2022/07/Logo-final-web-SBC.png
0
0
Viktoriya
https://simplybusinessclass.com/wp-content/uploads/2022/07/Logo-final-web-SBC.png
Viktoriya
2023-09-18 12:00:40
2023-09-18 11:34:39
Why Should You Visit Kefalonia, Greece?