Why Should You Visit Galapagos Islands?
Are you ready for an adventure of a lifetime? Look no further than the Galapagos Islands, a remote archipelago off the coast of Ecuador that has captured the hearts of travelers and nature enthusiasts from around the world.
The Galapagos Islands are home to a staggering array of unique wildlife species, many of which cannot be found anywhere else on earth. From the iconic giant tortoises to the playful sea lions, visitors to the Galapagos Islands are in for a treat as they explore these pristine islands.
But it's not just the wildlife that makes the Galapagos Islands special – the islands themselves are a natural wonder, with volcanic landscapes, crystal-clear waters, and stunning beaches that will take your breath away.
Join us as we delve into why the Galapagos Islands should be at the top of your travel bucket list and discover all the magic that awaits you on this incredible journey.
About the Location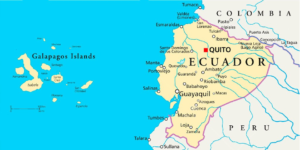 The Galapagos Islands are a volcanic archipelago located in the Pacific Ocean, approximately 906 kilometers off the coast of Ecuador. The archipelago is made up of 18 main islands, three smaller islands, and over 100 islets and rocks spread out over an area of about 45,000 square kilometers.
The islands were formed over millions of years by volcanic activity, and many of the islands are still active today, adding to the unique landscape of the islands.
The Galapagos Islands are located at the confluence of three ocean currents, making them a hotspot for marine life and providing a unique ecosystem that is home to a wide variety of species, many of which are found nowhere else on earth.
The islands also boast a range of landscapes, from rugged volcanic terrain to lush forests and stunning beaches.
What Are the Most Popular Places to Visit on Galapagos Islands?
If you are planning a visit to the Galapagos Islands, there is no shortage of places to explore. Popular spots on the islands include:
Tortuga Bay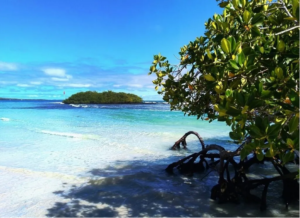 If you are looking for incredible marine life and crystal-clear waters, head to Tortuga Bay on Santa Cruz island. Here you will find a gorgeous white-sand beach, along with a variety of wildlife, including sea lions, pelicans, and marine iguanas.
The bay is also a popular nesting site for sea turtles, hence the name "Tortuga," which means turtle in Spanish.
El Chato Giant Tortoise Reserve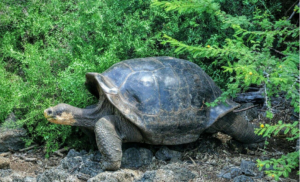 Located on Santa Cruz Island, El Chato is home to one of the largest populations of giant Galapagos tortoises. Visitors to the reserve can take a guided tour, where they will learn about the tortoises and their unique habitats.
The reserve also offers an excellent opportunity to observe the tortoises in their natural environment and take some fantastic photos.
Charles Darwin Research Station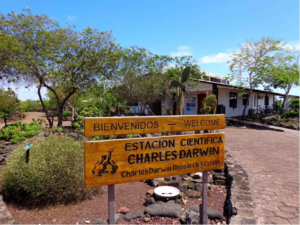 Located on Santa Cruz Island, the Charles Darwin Research Station is a must-visit destination for anyone interested in learning more about the unique wildlife and ecosystems of the Galapagos Islands. The research station is dedicated to studying and protecting the islands' nature, and visitors can see giant tortoises, iguanas, and other species up close.
Sierra Negra Volcano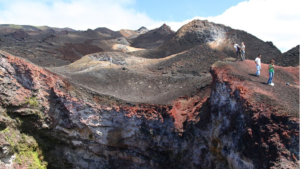 If you want stunning views, head to Sierra Negra Volcano on Isabela Island. The volcano is the second-largest active caldera in the world and offers breathtaking panoramic views of the islands. It is also an excellent spot for wildlife watching, with many species of birds, reptiles, and marine life.
Besides, this place is a great spot to experience the culture and cuisine of the islands, with plenty of local restaurants and shops.
Kicker Rock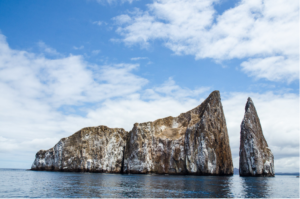 Kicker Rock, also known as Leon Dormido, is popular for snorkeling and scuba diving. The rock formation rises up out of the water and is home to a wide variety of marine life, including sea turtles, sharks, and rays.
Kicker Rock is a captivating marvel two hours away from San Cristobal and Puerto Baquerizo. To access this breathtaking site, you must hop on board a boat accompanied by an experienced guide.
As soon as you arrive at the destination, prepare to be in awe of its stunning walls composed of compacted volcanic ash that rise up nearly 500ft above ocean level!
Bartolome Island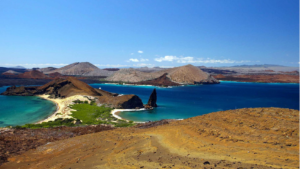 Bartolome Island is one of the most picturesque islands in the Galapagos, with stunning views of the surrounding landscape and crystal-clear waters perfect for snorkeling. Visitors can hike to the top of the island and take in panoramic views of the archipelago.
Adventurers who visit will be enthralled with two gorgeous sites, one offering a fantastic lookout point and the other displaying magnificent bodies of water for snorkeling or swimming. In addition, birdwatchers should keep their eyes peeled as they can spot Galapagos Penguins, herons, and even Galapagos Hawks in this superb location!
Las Tintoreras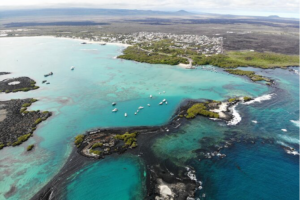 Las Tintoreras is a collection of small islands, the largest one being 900 meters in length and an average width of 100 meters. However, even the smallest island-like rock has become beloved by creatures such as Marine Iguanas, Galapagos Penguins, Blue-footed Boobies, Galapagos Sea Lions, and aquatic turtles, who are all drawn to its rocky lava terrain.
This place is fantastic for snorkelers, as the turquoise waters are crystal clear and home to some of the most diverse sea life in the world. Visitors can spot Hammerhead sharks in the waters with a bit of luck.
Isla Lobos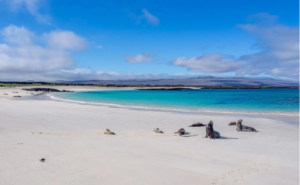 Isla Lobos, located off the coast of San Cristobal Island, is a popular spot for birdwatching and snorkeling. The island is home to a colony of blue-footed boobies and is a nesting site for frigatebirds.
Here, you can observe the unique species of this Galapagos Island, such as swallow-tailed gulls, lava herons, masked boobies, and brown pelicans, which are all very rare. Besides, the island is an excellent spot for snorkeling, swimming with sea lions, and exploring the pristine white sand beaches.
Bottom Line
The Galapagos Islands are a magical destination where visitors can get up close to nature and explore its diverse and unique ecosystems. From giant tortoises to pristine beaches and towering volcanoes, there is something for everyone in this incredible archipelago.
No matter which islands you choose to explore, and you will surely be left with unforgettable memories of this remarkable destination!
https://simplybusinessclass.com/wp-content/uploads/2022/07/Logo-final-web-SBC.png
0
0
Viktoriya
https://simplybusinessclass.com/wp-content/uploads/2022/07/Logo-final-web-SBC.png
Viktoriya
2023-03-09 14:02:00
2023-03-09 19:01:38
Why Should You Visit Galapagos Islands?