8-Day Tropical Caribbean: From Fort Lauderdale to Nassau with Holland America Line
Are you ready to experience the beautiful Caribbean Islands in style? Look no further than Holland America Line's 8-Day Tropical Caribbean cruise from Fort Lauderdale, Florida.
From visiting exciting, vibrant ports of call such as Nassau, Bahamas, and Grand Turk Island to relaxing onboard activities like poolside movie nights and indulging in fine dining cuisines, this cruise has something for everyone.
And with all these fantastic features at your fingertips, who wouldn't want to join us this spring for a weeklong getaway that promises relaxation, exploration, culture, and adventure?
Read on to discover all the amazing features of this 8-day cruise and why you should book now!
About the Ship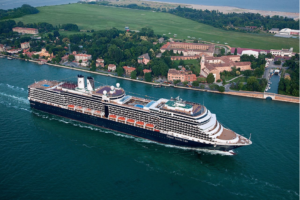 Nieuw Amsterdam is a stunning cruise ship belonging to the Holland America Line fleet. It has a length of approximately 285 meters and a capacity of up to 2,106 guests. The ship offers various amenities and activities, including several dining options, bars and lounges, a casino, a theater, a spa and fitness center, and a sports deck.
The staterooms on board Nieuw Amsterdam are well-appointed and feature modern amenities. There are 1,339 staterooms in total, including 174 suites, 795 verandah staterooms, and 87 interior staterooms.
It also has a crew of approximately 929 staff members who provide exceptional service to guests throughout their journey. With its luxurious accommodations and world-class amenities, Nieuw Amsterdam is perfect for a memorable cruise vacation.
Accommodation On Board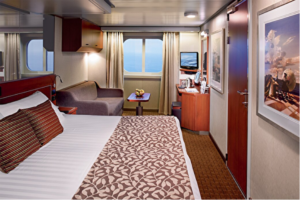 Nieuw Amsterdam offers a variety of staterooms to suit every traveler's needs. Here are the different categories of staterooms available on board:
Interior Staterooms: These staterooms offer great value for your money, featuring two lower beds that can convert to a comfortable queen-size bed. There's also plenty of room to relax with an ergonomic sitting area and flat-screen TV; plus the added convenience of a mini fridge and spacious storage compartments.
Oceanview Staterooms: These rooms feature a window or porthole, offering ocean views. They are similarly equipped with interior staterooms.
Verandah Staterooms: Guests can revel in the picturesque views of the ocean from their private verandah, complete with comfortable seating. These staterooms also provide a sitting area, high-definition flat-screen TV, a mini-fridge for extra convenience, and plenty of space to store your belongings.
Signature Suites: These spacious suites feature a private verandah, a separate living area with a sofa bed, a flat-screen TV, a mini-fridge, and a luxurious bathroom with a whirlpool tub.
Neptune Suites: These are the most luxurious accommodations on board, featuring a private verandah, a separate living area with a sofa bed, a flat-screen TV, a mini-fridge, and a bathroom with a double sink and a whirlpool tub. Guests staying in Neptune Suites also have access to exclusive amenities, such as a concierge lounge and priority boarding.
Activities & Entertainment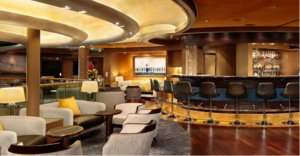 Nieuw Amsterdam offers a wide range of activities and entertainment options to keep guests entertained throughout their journey. The ship features two swimming pools, one with a retractable roof, several hot tubs, and a fitness center. For guests who enjoy outdoor activities, there is a basketball court, a mini-golf course, and a jogging track.
When it comes to entertainment, Nieuw Amsterdam has something for everyone. The ship features several live music venues, including the B.B. King's Blues Club, Lincoln Center Stage, and Billboard Onboard. There is also a theater that hosts Broadway-style shows, a casino, a nightclub, and a movie theater. 
Additionally, the ship offers a variety of enrichment programs, such as cooking classes, wine tastings, and digital photography workshops, ensuring that guests have a memorable and enjoyable experience on board.
Dining Options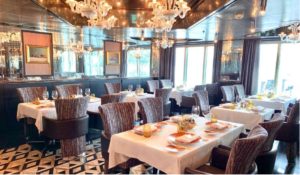 With Nieuw Amsterdam, you can explore a wide array of culinary delights! From restaurants to bars and everything in between, numerous choices are available. You will discover many main dining rooms with exclusive menus and distinct atmospheres.
In addition, several specialty restaurants, including the Pinnacle Grill, serve gourmet seafood and steak dishes, and Tamarind offers exotic Asian-inspired cuisine.
For guests who prefer a more casual dining experience, several options are available, including the Lido Market, a buffet-style restaurant serving breakfast, lunch, and dinner, and the Dive-In, a poolside eatery serving up burgers and hot dogs.
Regarding bars and lounges, Nieuw Amsterdam has plenty to offer, including the Crow's Nest, a panoramic lounge offering stunning ocean views, and the Ocean Bar, a sophisticated cocktail bar serving a range of classic and contemporary drinks.
Itinerary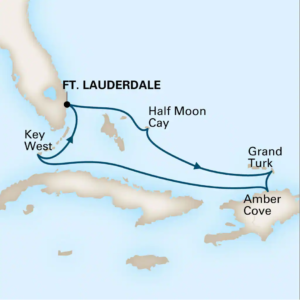 Nieuw Amsterdam offers a wide range of exciting itineraries that take guests to some of the most stunning places around the world. This 8-day Tropical Caribbean itinerary starts at Fort Lauderdale and visits Half-Moon Cay, Grand Turk, Amber Cove, and the Bahamas.
On the first day, you will depart from Fort Lauderdale and make your way to Half-Moon Cay, where on the second day, you can enjoy an idyllic Bahamian island with pristine white sand beaches and crystal-clear waters. Guests can enjoy a range of activities, such as snorkeling, kayaking, and paddleboarding.
On the third day, you'll sail at sea and enjoy the onboard activities. Here, you can take part in cooking classes, wine tastings, and digital photography workshops.
On the fourth day, you'll arrive in Grand Turk, a laid-back island known for its white sand beaches and watersports. Guests can explore the island's vibrant coral reefs, go snorkeling or take a dip in the turquoise waters.
On the fifth day, you'll arrive at Amber Cove, a popular port located in the Dominican Republic. Guests can embark on an array of adventures, from kayaking along the coastline to discovering the island's rich colonial architecture.
On the sixth day, you'll again be sailing the whole day at the sea and enjoying onboard activities such as live music, Broadway-style shows, and wine tastings.
On the seventh day, you'll arrive in Nassau, the capital of the Bahamas and a popular cruise destination. Here, guests can enjoy a range of activities, from exploring the stunning beaches to shopping at the local market and trying out the delicious local cuisine.
Finally, on the eighth day, you'll return to Fort Lauderdale after an unforgettable journey.
Excursions
Nieuw Amsterdam offers a range of exciting excursions that take guests on unique adventures in each port of call. These excursions help guests to make the most of their trip, allowing them to explore new cities and cultures.
Fort Lauderdale, Florida, USA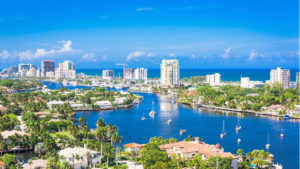 This place offers a range of activities and attractions, from the Riverwalk to shopping along Las Olas Boulevard. Guests can also take part in an exclusive excursion to the Everglades where they can take an airboat safari and spot alligators in their natural habitat.
Half-Moon Cay, Bahamas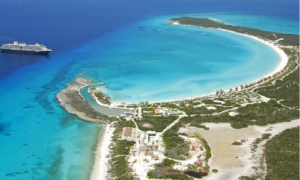 Half-Moon Cay is a private island paradise and offers guests the chance to explore its white sand beaches, crystal-clear waters, and vibrant coral reefs. You can take part in a kayak tour or book an exclusive beachside cabana for the day to relax and soak up the sun.
Grand Turk, Turks, and Caicos

Embark on an amazing journey to Grand Turk and uncover its breathtaking coral reefs, snorkel around the island's depths, or take a trip over to one of the neighboring islands. If you're feeling adventurous, why not check out the illustrious Grand Turk Lighthouse? Or even better – embark on an exciting island-hopping escapade!
Amber Cove, Dominican Republic
Amber Cove allows you to explore its vibrant colonial architecture and stunning beaches. Take a tour on a jeep or horseback, go sightseeing in the nearby towns of Puerto Plata and Santiago de los Caballeros, or relax on the beach with a refreshing drink in hand.
Nassau, Bahamas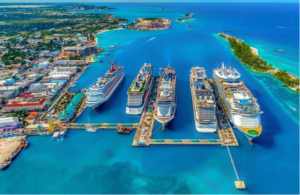 Nassau is a bustling port city offering plenty of things to do, from swimming with dolphins to exploring the Atlantis resort. Or take an excursion to Paradise Island and discover its spectacular beaches and world-famous casino.
Bottom Line
From pristine white sand beaches to vibrant coral reefs, you'll have the chance to explore some of the world's most beautiful destinations on Nieuw Amsterdam's unforgettable 8-day Caribbean cruise.
Plus, with a range of onboard activities and exciting excursions to choose from, you'll have an amazing and memorable experience. Don't miss out – book your cruise today!
https://simplybusinessclass.com/wp-content/uploads/2022/07/Logo-final-web-SBC.png
0
0
Viktoriya
https://simplybusinessclass.com/wp-content/uploads/2022/07/Logo-final-web-SBC.png
Viktoriya
2023-03-13 12:00:33
2023-02-28 20:08:02
8-Day Tropical Caribbean: From Fort Lauderdale to Nassau with Holland America Line