A Cut Above the Rest: Discovering ANA All Nippon Airways Business Class Luxury
Flying in comfort and luxury is a top priority for many travelers, and ANA All Nippon Airways offers an exceptional business-class experience that will impress. From the moment passengers step on board, they are treated to world-class amenities and services designed to make their journey truly memorable.
Whether you're visiting Japan for business or leisure, you can expect to be pampered with luxurious seats offering ample legroom and reclining, high-end entertainment systems with various movies and games, and delicious gourmet meals from award-winning chefs.
In this article, we'll examine what makes ANA All Nippon Airways' business class so unique and why it is a cut above the rest!
Enjoyable Flying Experience: Why Should You Choose ANA All Nippon Airways Business Class?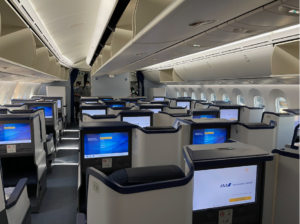 ANA All Nippon Airways' Business Class is known for its exceptional amenities that make for a comfortable and enjoyable flying experience.
Here are some of the key amenities that passengers can expect when flying business class with ANA:
Business Class Airport Services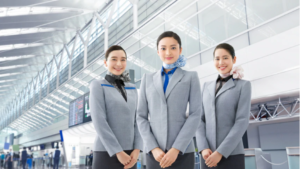 ANA All Nippon Airways' Business Class passengers can enjoy a range of airport services that are designed to make their travel experience as seamless and stress-free as possible.
Here are some of the key airport services that Business Class passengers can expect:
Priority Check-In: Business Class passengers can enjoy priority check-in, which allows them to bypass long queues and check in quickly and efficiently. This service is available at most airports where ANA operates flights from.
Fast Track Security: Business Class passengers can experience a streamlined security process with Fast Track check-in available in some airports. Review your departure airport's guide for further instructions and details.
Priority Boarding: Business Class passengers are given priority boarding, which allows them to board the plane before other passengers. It ensures passengers have plenty of time to settle into their seats and get comfortable before takeoff.
Baggage Allowance: Business Class travelers who wish to check in their luggage kindly proceed to the Baggage Drop counter for a Priority baggage tag. Your bags will arrive at the Baggage Claim after collecting any First Class priority bags.
Disembarking: Business Class passengers, you are invited to disembark the plane with priority. If your luggage has been checked in, head over to Baggage Claim – where you can collect your bags quickly and efficiently!
Business Class Lounges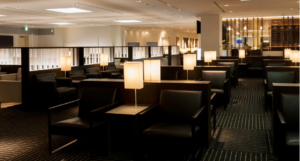 Business Class passengers can access special lounges with comfortable seating, complimentary refreshments and snacks, high-speed Wi-Fi, and more. These lounges provide the perfect opportunity for passengers to relax before their flight and enjoy a more restful journey.
Business travelers flying on ANA's international flights are cordially invited to experience the luxury and convenience of their world-class lounges. Whether at one of their own facilities or those they partner with, eligibility for access and details regarding services available vary by airport.
Comfortable Seating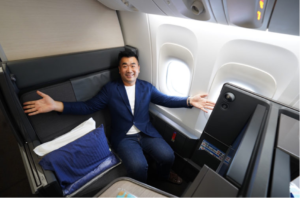 ANA's Business Class seats are designed to provide maximum comfort and relaxation for passengers. The seats are spacious and fully recline to a flat-bed position, allowing passengers to get a good night's sleep on long-haul flights. Each seat also has a large entertainment screen and plenty of storage space.
ANA offers three main types of business seats:
The Room: These seats come with a door and direct aisle access, providing high privacy and comfort. The alternating forward- and rear-facing rows allow for maximum space and privacy.
ANA Business Staggered: ANA was the first Japanese airline to adopt the staggered seat arrangement, providing direct aisle access to all passengers regardless of their seat location.
ANA Business Cradle: This seat is designed for a comfortable flight experience with a spacious pitch, adjustable footrest, and a range of amenities, including a large LCD monitor, a table, and a universal power port.
Dining and Drinks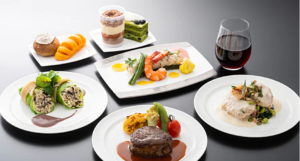 ANA's Business Class passengers can enjoy delicious meals and drinks with high-quality ingredients. The airline offers an exclusive menu of Western-style dishes that are prepared in flight by professional chefs. Passengers can also enjoy a selection of fine wines and alcoholic drinks to accompany their meals.
ANA also offers a wide variety of Japanese-style meals and snacks for passengers who prefer something with an oriental flair. Passengers can even enjoy a meal at the Business Class Lounge before their flight!
In-Flight Entertainment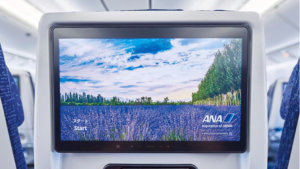 ANA has an extensive selection of in-flight entertainment available for Business Class passengers, with movies, music, and TV shows all available on demand. Passengers can also access the internet via the onboard Wi-Fi connection and keep up-to-date with the latest news.
Business Class travelers can now rent a portable laptop battery, provided no in-seat power outlet is available on your flight. This innovative feature will ensure you remain connected and productive throughout your journey!
Other Services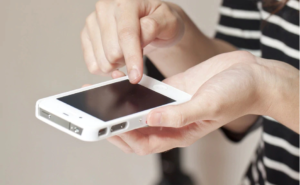 ANA also offers various other services to make your journey more enjoyable. These services offer the ability to keep their fare, rebooking and refund service, lounge access, additional baggage allowance, and more.
Here are the most popular services available to Business Class passengers:
Keep My Fare
Keep My Fare is a service that allows passengers to hold their reservation and fare for up to 72 hours without paying for the ticket. This service is ideal for passengers still determining if they want to commit to a particular flight or fare but want to ensure they have a seat reserved. With Keep My Fare, passengers can take the time to decide without worrying about losing their reservation or being charged for the ticket.
Pre-Paid Extra Baggage
ANA offers the Pre-Paid Extra Baggage service to allow passengers to pay for additional baggage allowance in advance, usually at a discounted rate compared to extra baggage at the airport.
This service is ideal for passengers who know they will be traveling with more baggage than the standard allowance or who want to avoid the hassle of paying for extra baggage at the airport. By pre-paying for extra baggage, passengers can also save time at the airport and ensure a hassle-free check-in process.
In-Flight Medical Support
ANA provides In-Flight Medical Support services to ensure passengers receive the medical care they need during their flight. This service is available on all ANA flights and is provided by a qualified doctor and nurse trained to handle medical emergencies.
The medical team is equipped with various medical equipment and supplies, including a defibrillator and oxygen tank, to provide prompt and effective medical care to passengers in need.
Bottom Line
ANA's Business Class services are designed to provide passengers with a comfortable and enjoyable flight experience. From generous seating space to delicious meals and drinks, Business Class passengers can expect the best from ANA.
Passengers can also take advantage of additional services, such as pre-paid extra baggage and in-flight medical support, to ensure a safe and comfortable flight. With ANA's Business Class service, passengers can enjoy the ultimate comfort and luxury when flying.
https://simplybusinessclass.com/wp-content/uploads/2022/07/Logo-final-web-SBC.png
0
0
Viktoriya
https://simplybusinessclass.com/wp-content/uploads/2022/07/Logo-final-web-SBC.png
Viktoriya
2023-03-02 12:00:24
2023-02-28 19:27:11
A Cut Above the Rest: Discovering ANA All Nippon Airways Business Class Luxury