Hospitality On Board: Turkish Airlines' Business Class
If you're looking for a luxurious and comfortable way to fly, Turkish Airlines business class is definitely the way to go. With plenty of room to relax and spacious seating, you'll be able to enjoy your flight in peace and comfort. Plus, with excellent food and service, you'll feel like royalty from takeoff to touchdown.
So if you're planning a trip and want the best flying experience, check out Turkish Airlines business class. But what makes them so special? Let's find out!
Peculiarities of Turkish Airlines Business Class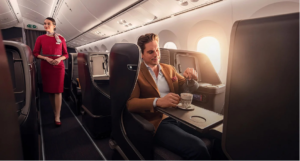 As a business traveler, you expect the best of the best when it comes to your travel experience. And that's exactly what you'll get when you fly Turkish Airlines Business Class. In addition, you can feel like a VIP when you fly and enjoy increased comfort as you use the miles you've earned through the Miles&Smiles loyalty program.
From delicious in-flight meals and top-notch entertainment options to spacious seats and complimentary amenities, you'll get everything you need to make your journey as comfortable and enjoyable as possible.
Preferential Check-In
As a Business Class passenger, you'll be able to enjoy preferential check-in and baggage handling. This means that you can avoid the crowds at the airport and get through security faster. You can choose between online and mobile check-in or use the Fast Track security lane if available. Your baggage will also be given priority, so you can be sure that it will arrive at your destination as quickly as possible.
Extra Baggage Allowance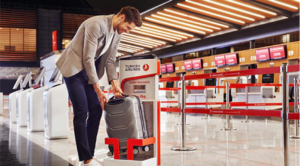 Turkish Airlines Business Class passengers are entitled to an extra baggage allowance, so you can pack everything you need for your journey. This allowance varies depending on the route and flight class, but you'll usually be able to bring two pieces of luggage weighing up to 32kg each.
Priority Boarding
As a Business Class passenger, you'll be able to board the plane first, so you can get settled in your seat and start enjoying your flight. It means you won't have to wait in the queue at the gate, and you can relax knowing that your seat will be available when you board.
Comfortable Seating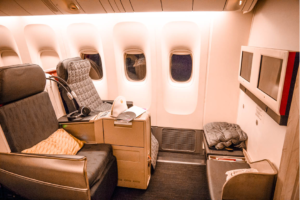 Your seat in Business Class will make you feel relaxed and comfortable throughout your flight. With a width of up to 22 inches, these seats are some of the widest in the sky. In addition, seats can open into a 193 cm bed, so you can get some rest if needed.
The Business Class cabin also has its own private space, so you can enjoy a little peace and quiet if you need it. You'll also have access to a power outlet to stay charged and connected throughout the journey.
Besides, Turkish Airlines business class is twice as enjoyable with special features like an in-chair massage, a reading lamp, and the ability to screen off your own private area.
Inflight Catering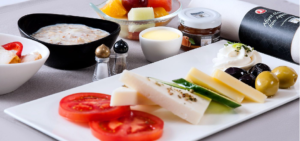 You'll be treated to a delicious meal on your flight, with a menu designed by world-renowned chef, Do&Co. The food is served on china plates with real silverware so that you can enjoy a gourmet experience in the air.
Catering for Domestic Flights
For example, if you have domestic flights, you'll be served many special dishes of Turkish cuisine, such as karnıyarık (eggplants with minced meat), mantı (Turkish ravioli), and stuffed grape leaves. You'll also find tastes from the world cuisines that chefs offer through exclusive dining service.
Catering for International Flights
The quality of dining service you will receive in Business Class on an international flight depends on the time of departure and length of the flight. Talented chefs serve an ever-changing menu of fresh, high-quality food stylishly presented on porcelain tableware. You can also enjoy our snack service on some flights and hot/cold breakfast and meal service.
Catering for Transatlantic Flights
On transatlantic flights, chefs serve three meal services as well as a snack service on some routes. Later, you can enjoy delicious food and choose from a comprehensive hot drinks menu or try Turkish coffee and Turkish delight.
On-Demand Entertainment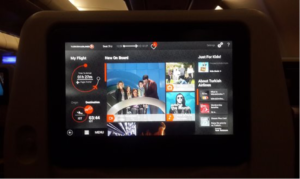 You'll be able to enjoy a world of entertainment at your fingertips with the on-demand system in Business Class. With a wide range of movies, TV shows, music, and games to choose from, you'll never be bored on your flight. You can also stay connected with the world below with WiFi access and live TV.
Coccinelle and Hackett Amenities Kit
To make your flight even more comfortable, you'll find a Coccinelle or Hackett amenity kit in your seat. It will include items like an eye mask, earplugs, socks, and lip balm to help you relax and feel refreshed after your journey.
Headphones for Perfect Sound and Silence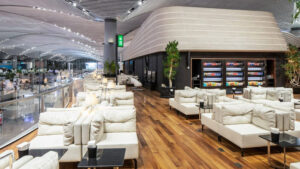 You'll be able to enjoy your flight with perfect sound and silence, thanks to the Denon® headphones provided in Business Class. You can also use noise-canceling headphones to block out unwanted noise and create your own private space. Disinfected with the utmost care and designed for easy use, these products will make your flight easier.
Miles & Smiles Loyalty Program
As a Business Class passenger, you'll be able to earn miles on Turkish Airlines and its partners. These milescan then be redeemed for free flights, upgrades, and other benefits. You can also use your miles to shop in the Miles&Smiles store, where you'll find a range of high-quality products and experiences.
Turkish Airlines Lounge Access
As a Business Class passenger, you'll be able to enjoy access to the Turkish Airlines Lounge before your flight. It is a luxurious space where you can relax, work, or take a refreshing shower. 
You'll find a range of facilities in the lounge, including WiFi, TV, magazines, and complimentary refreshments. You can also enjoy a selection of hot and cold dishes and a range of alcoholic and non-alcoholic beverages.
Arrival Services
When you arrive at your destination, you'll be able to take advantage of a range of arrival services. These include airport transfers, hotel reservations, and car rentals. You can also use the Turkish Airlines Arrival Lounge, where you can freshen up after your journey.
Bottom Line
As a Business Class passenger on Turkish Airlines, you'll be able to enjoy a range of benefits that will make your journey more comfortable and enjoyable. From extra baggage allowance to priority boarding, you'll have everything you need to make the most of your flight.
With its world-class service and luxurious amenities, Turkish Airlines Business Class is the perfect way to travel. So, book your flight today!
https://simplybusinessclass.com/wp-content/uploads/2022/07/Logo-final-web-SBC.png
0
0
Viktoriya
https://simplybusinessclass.com/wp-content/uploads/2022/07/Logo-final-web-SBC.png
Viktoriya
2022-12-01 12:00:20
2022-12-04 15:25:13
Hospitality On Board: Turkish Airlines' Business Class