Luxury, Spaciousness, and Elegance: Qatar Airways' Business Class
If you've ever flown business class, you know that it's a completely different experience from flying in coach. With Qatar Airways, you can enjoy all the benefits of business class, including plenty of legroom, comfortable seats, and delicious meals. Plus, you'll have access to the airline's award-winning entertainment system.
Don't you believe us? Then, read this article and find out why Qatar Airways' Business Class is sure to make your trip more comfortable and enjoyable.
What Makes Qatar's Business Class Unique?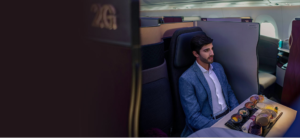 Qatar Airways' Business Class offers a world-class experience that is perfect for both business and leisure travelers. The airline's state-of-the-art aircraft are equipped with lie-flat seats, in-seat power outlets, and personal entertainment systems.
Qatar Airways also provides passengers with complimentary amenity kits, gourmet meals, and excellent service throughout the flight. So whether you're flying for business or pleasure, Qatar Airways' staff will ensure that your journey is comfortable and enjoyable.
Here are some special features of Qatar Airways Business Class:
Privilege Club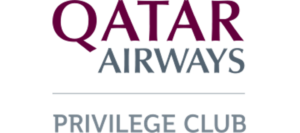 Being a member of the Privilege Club gives you many privileges, such as priority standby, lounge access, increased baggage allowance, and more. You can also earn Qmiles while you fly with Qatar Airways, which can be used to purchase tickets or upgrades.
Holders of Silver, Gold, and Platinum Priority Cards get access to Qatar Airways' Premium Lounges, where you can enjoy a range of services and amenities, including complimentary Wi-Fi and gourmet cuisine.
Besides, such members have priority check-in and boarding, extra baggage allowance, and access to dedicated customer service desks for priority processing.
For example, Silver Card Members receive a 15kg baggage allowance, while Gold and Platinum cardholders receive 20 kg and 25 kg, respectively.
Priority Check-In and Boarding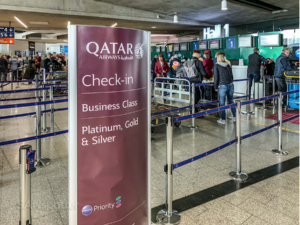 Business Class passengers can check in at any of the Priority Check-in desks, where a dedicated team will assist them to ensure a swift and smooth experience.
The airline also offers Priority Boarding, so you can board the aircraft before other passengers. This feature is especially useful if you have a tight connection or need to get settled quickly.
Luxury Lounges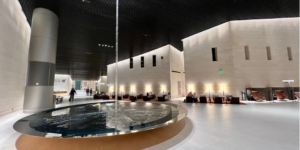 Qatar Airways offers Premium Lounges in many of its destinations, where you can relax before your flight with complimentary snacks and beverages. The lounges also provide a range of services, such as Wi-Fi, private workstations with computers, and comfortable seating areas.
For example, when frying from Doha, Business Class passengers can relax in the Al Safwa First Lounge, which features fine dining and a spa.
Spacious and Comfortable Cabins with Lie-Flat Seats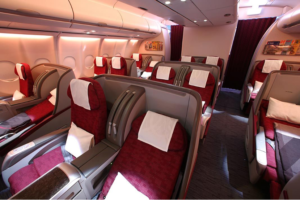 Qatar Airways offers its Business Class members some of the most spacious and comfortable seats in the sky. All of the airline's Business Class seats are lie-flat, so you can sleep, work, or relax comfortably.
With ample storage, you can keep your belongings close by, and with LED lighting that adjusts to changing time zones, you'll arrive feeling well-rested no matter the destination.
To make your travel more comfortable, reclining seats offer direct aisle access and come with exclusive Diptyque amenity kits and designer loungewear by The White Company.
Brand-New Qsuite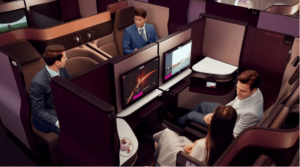 Qatar Airways' new QSuite Business Class cabin is the perfect way to travel in style and comfort. The airline's state-of-the-art aircraft are equipped with lie-flat seats, in-seat power outlets, and personal entertainment systems.
Qatar Airways' signature colors of burgundy and grey are present throughout the cabin interior, with elegant rose gold detailing. The seats have been upholstered in comfortable fabrics, and the media panel includes a power port with USB, HDMI, and NFC capabilities.
With the debut of our dual-screen interface on A350, A380, and B787 aircraft, you'll be blown away by how much easier it is to multitask. Now, you can play games on your handheld device while watching movies or TV programs on a personal screen.
Gourmet Meals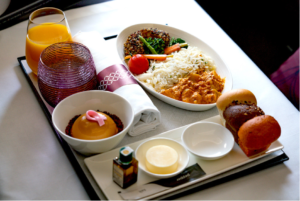 Qatar Airways serves gourmet meals in all of its Business Class cabins. The airline's award-winning chefs create seasonal menus using the freshest ingredients, so you can enjoy a delicious and healthy meal during your flight.
You can enjoy delicious food whenever you want with an on-demand à la carte menu. And because each seat has a spacious dining area, you can savor your world-class meal in the sky.
If you're ever looking for an exquisite experience, ask for afternoon tea. Traditional finger sandwiches, warm scones with clotted cream, and delicate pastries served with a selection of premium teas or coffee will never disappoint you.
Complimentary Amenity Kits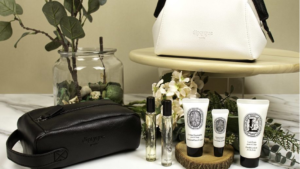 Each passenger in Qatar Airways Business Class receives a complimentary amenity kit, which includes skincare products, earplugs, and an eye mask. In addition, the airline's First Class passengers also receive a pair of slippers and a sock set.
After each meal service and before you disembark the plane, hot towels are offered to clean your hands and face. On most flights, attendants also provide a choice of hot or cold towels.
The airline has also introduced new amenity kits by leading brands like The White Company, Acqua di Parma, and Bulgari to make your travel more comfortable. These new kits contain everything you need to relax and refresh during your flight, including a face mist, lip balm, and hand cream.
Excellent Service
Qatar Airways Business Class cabin crew is known for providing exceptional service. The airline's highly trained staff will attend to your every need, whether you're looking for a drink, a snack, or some information about your destination.
You can also take advantage of the airline's meet-and-assist service, which helps you through every step of your journey, from check-in to arrival.
In-Flight Entertainment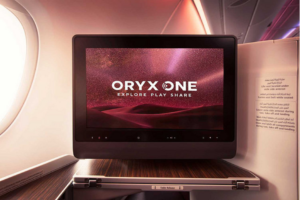 Qatar Airways offers business class passengers an extensive selection of movies, TV shows, music, songs, and live sports. In addition, the airline's Oryx Entertainment system includes more than 1,000 hours of entertainment on demand, so you can stay entertained for the duration of your flight.
Oryx One Communications offers wireless Internet on all other aircraft. You can either send free SMS messages or buy access to Wi-Fi, though it isn't as fast as the Super Wi-Fi product.
The airline also offers a range of interactive games to keep you busy. With in-seat power outlets, you can always stay connected.
Bottom Line
Qatar Airways Business Class is the perfect way to travel in comfort and luxury. With gourmet meals, complimentary amenities, exceptional service, and a brand-new cabin interior, your flight will be one of the most memorable experiences ever. So book your ticket now and enjoy the journey!
https://simplybusinessclass.com/wp-content/uploads/2022/07/Logo-final-web-SBC.png
0
0
Viktoriya
https://simplybusinessclass.com/wp-content/uploads/2022/07/Logo-final-web-SBC.png
Viktoriya
2022-11-29 12:00:55
2022-12-04 15:24:28
Luxury, Spaciousness, and Elegance: Qatar Airways' Business Class