Royal Luxury Aloft: Thai Airways Redefines First-Class Travel
Get ready to enter a world of pure luxury and extravagance as we unveil the secrets of Thai Airways Royal First Class. This is where flying becomes an art form, with top-notch service that will make your jaw drop, food that will transport you to culinary heaven, and seats so cozy you'll never want to leave.
Whether you're embarking on a once-in-a-lifetime adventure or just need a break from reality up in the sky, Thai Airways Royal First Class is like stepping into another dimension. Buckle up tight because we're about to take off on a journey filled with sophistication and class that will leave you speechless.
Thai Airways Royal First Class: Elevating Your Travel to Perfection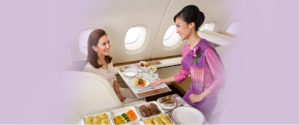 Get ready to experience the epitome of luxury and pure indulgence as we take a deep dive into the realm of Thai Airways Royal First Class. This is not your average flying adventure; it's a whole new level of extravagance and relaxation that will redefine how you view air travel.
Ground Experience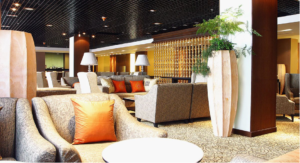 Get ready to be treated like royalty as soon as you step foot in the airport. Thai Airways Royal First Class takes your travel experience to a whole new level. They've got a dedicated check-in counter just for you, so no more waiting in long lines! And get this – you'll have your very own personal porter who will guide you through a special Fast Track security lane. Say goodbye to dealing with crowds and hello to feeling like a VIP.
Once you're all checked in, get ready for pure luxury at the Royal Orchid Prestige Lounge. This place is seriously amazing. It's like stepping into an oasis of modern elegance. You can choose from different seating areas depending on whether you want to kick back and relax or get some work done. As a Royal First Class passenger, you also have access to an exclusive à la carte menu created just for you.
Feeling thirsty? No worries, they've got your back there too. You can sip on Möet & Chandon Imperial Champagne while enjoying your culinary journey – talk about fancy! Oh, and if you need to freshen up before your flight or if Bangkok is just one of your layovers, they've got shower facilities available for your convenience.
When it's time to board the plane, Thai Airways goes above and beyond by providing an exclusive escort service right up until takeoff. Yup, that's right – they'll make sure every detail is taken care of as they transport you straight from the lounge to the aircraft using either a personal van or buggy.
Comfortable Seats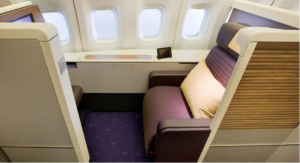 Let us tell you about the Thai Airways Royal First Class seat—it's like a dream come true! With a sizeable 23-inch width, it gives you all the space you need to just kick back and relax. Seriously, it's so cushy and cozy that your journey is going to be nothing short of amazing.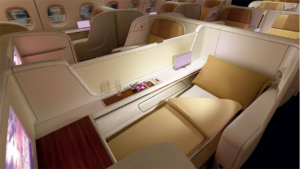 But wait, there's more! This seat can magically turn into a luxurious lie-flat bed, allowing you to catch some Zs while soaring through the skies. And let us just say the combination of purple and yellow upholstery gives off such fancy vibes. It perfectly contrasts with the white bulkheads, gorgeous purple orchids, and classy wooden trimmings decorating the cabin.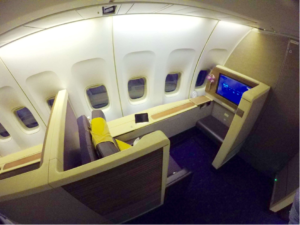 We can't forget about your feet—right across from your seat is an ottoman that lets you prop them up for even more comfort. Sure, it doesn't come equipped with seat belts for dining buddies (sorry!), but man, does it make lounging around so much better!
Now onto entertainment—you'll be hooked on the large 23-inch touchscreen TV monitor strategically placed right next to your heavenly seat. Plus—and this may sound crazy—there's even an orchid holder within reach to add a touch of nature's beauty amidst all this luxury.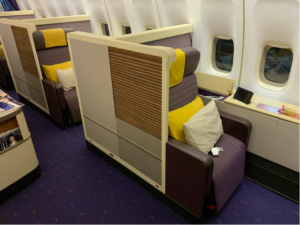 Oh yes, convenience matters too! There's a cleverly hidden tray table in a compartment beside your throne. Out when needed; folded in half for flexibility—it's everything you need at your fingertips.
Exclusive Cuisine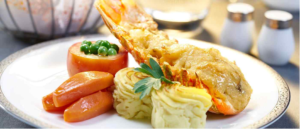 Get ready for a culinary adventure in the clouds with Thai Airways! They have taken inflight dining to a whole new level, especially for those lucky folks sitting in Royal First Class. Now, here's the real kicker – they've introduced this amazing Pre-Select meals service.
Basically, if you're flying First Class, Business Class, or even Economy Class and you happen to be a Royal Orchid Plus Platinum or Gold member, you get to customize your meal experience before takeoff. That means no more settling for whatever they throw at you onboard.
Picture this: 72 hours before your flight leaves Bangkok (that's where it all starts), you can pick from an incredible range of options and select your ideal dishes. It's like having a sneak preview of what deliciousness awaits up there at 35,000 feet!
Let us just say that their menu is mind-blowing. Do you want some traditional Thai flavors bursting in your mouth? No problem! How about international cuisines that will make your taste buds dance? They've got that too! The chefs on board work their magic using fresh ingredients to whip up appetizers, main courses, and mouthwatering desserts that are elegantly presented.
Inflight Entertainment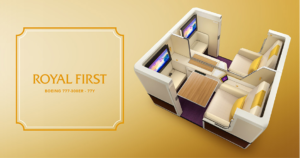 The TV screen in First Class on Thai Airways' Boeing 747-400N version is a big ol' 23-inch touchscreen. And get this. You can control it with a wired entertainment controller.
When it comes to headphones, Thai Airways doesn't mess around. They provide these top-notch AKG-branded noise-canceling headphones that are Samsung-tuned. Honestly, the sound quality is off the charts!
Now for the entertainment selection… They have some movies and TV series options, along with a few games and a flight map.
One thing to note – there's no Wi-Fi available on any of their Boeing 747-400 planes. So bring a book or download some shows beforehand if you need your internet fix!
Amenities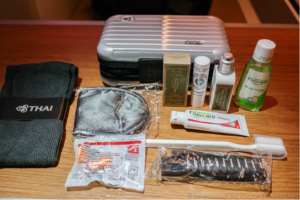 First-class passengers hit the jackpot with their fancy Rimowa amenity kits. These are packed with all sorts of goodies to make your flight feel like a spa day. Just imagine Caudalie-branded body lotion, lip conditioner, and facial mist to keep your skin hydrated and fresh.
And hey, they didn't stop there! You also get a comb for those mid-flight touch-ups, a dental kit to ensure you're ready for that post-nap smile, and even mouth freshener because who wants dragon breath during turbulence? It's like winning the travel lottery!
Bottom Line
If you're ready for the ultimate in luxury and class, Thai Airways Royal First Class is where it's at. The second you step foot into that airport, get ready to be treated like a VIP. Your journey will be smooth sailing from start to finish.
Now let's talk about those seats – they're not just spacious; they actually convert into a fancy lie-flat bed. So go ahead and stretch out because comfort knows no limits when you're flying first class with Thai Airways.
And let's not forget about the food. You'll be dining like royalty up in the air with their Pre-Select meals service.
The service? Impeccable doesn't even begin to describe it. They pay attention to every little detail, creating an elegant environment that makes you feel important and oh-so-fancy.
All in all, Thai Airways Royal First Class takes travel perfection seriously – from giving you top-notch service to providing luxurious surroundings wherever you turn. It's truly an unparalleled experience of refinement and opulence.
https://simplybusinessclass.com/wp-content/uploads/2022/07/Logo-final-web-SBC.png
0
0
Viktoriya
https://simplybusinessclass.com/wp-content/uploads/2022/07/Logo-final-web-SBC.png
Viktoriya
2023-09-07 12:23:04
2023-09-07 12:23:04
Royal Luxury Aloft: Thai Airways Redefines First-Class Travel